Save Sarah Chapman's Grave, A Leader Of The 1888 Matchwomen's Strike & Trade Union Heroine
In all aspects of life, the part played by women; continues to be sidelined, ignored, denied and eradicated not only from contemporary media sources but most of all from the pages of history. One of the most effective ways of doing so of course, is to destroy anything which reminds society of, or pays tribute to; the accomplishment of women.
Whilst a perfect example is demonstrated in the recent film about the three women responsible for NASA's successes in the space-race – "Hidden Figures"; a more salient example for working women in the UK is that of the fate of the grave of one of Britain's most influential women activists in the Trade Union movement.
The 1888 Matchwomen's Strike is remembered as one of the major events in the fight for the rights of working women in this country, and yet a leading member of the strike committee, who went on to become one of the first working-class women to represent their Union at the TUC; Sarah Chapman – lies in an unmarked, near invisible; pauper's grave.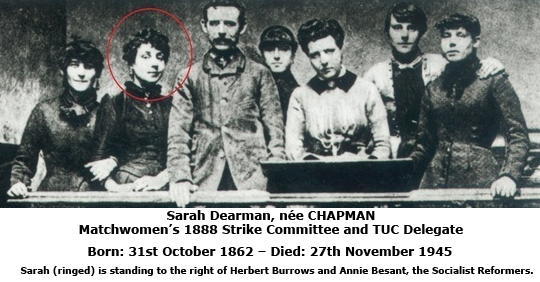 Her grave in London's Manor Park, no more than a grassy footpath with no identification or markings whatsoever; is about to be flattened or 'mounded-over' as the official term is, in order to reclaim cemetery land.
Whilst the government seems happy to spend millions on maintaining statues and memorials of politicians and war heroes (usually male), they totally ignore the heroes of everyday people, many of whom were women and without whom many of the human rights and worker's rights we enjoy today; would never have become reality.
Now, Sarah Chapman's relatives and supporters are fighting to save her grave and to get a decent memorial and marking established in her name, in honour of the sacrifices she made at a time when women were scorned upon and denied basic human rights in so many ways; not to mention in the workplace.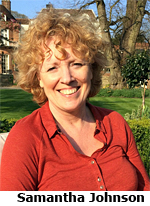 As stated in the introduction to a petition to Lord Chancellor an Secretary of State for Justice The Rt Hon David Lidington MP set up by Samantha Johnson some three weeks ago:
"Sadly, despite the great contribution Sarah made to the beginnings of the modern trade union movement and to working women's rights, Sarah's final resting place is a 'pauper's grave' in Manor Park Cemetery. The grave, nothing more than a grassy footpath with no marking, let alone a headstone, was rediscovered by her Great Granddaughter in early 2017."
But, whilst the Cemetery has offered a plaque elsewhere in the cemetery grounds, Sarah's descendants feel she deserves to be remembered at the exact location of her grave.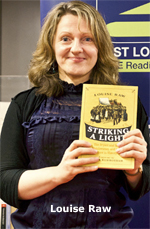 They hope to place a permanent memorial to Sarah on the site of her grave, and have already secured parliamentary support via Lyn Brown MP and historian and author Louise Raw who wrote a book about the 'Match Girl's Strike' and set up this year's MatchFest'17 aimed at celebrating and supporting women's achievements in all aspects of life, past present and in the future.
The whole of the Trade Union movement and in reality, working women of today, owe a great debt to people such as Sarah Chapman, who unlike a majority of working people today, wasn't prepared to acquiesce to exploitation, injustice and inequality.
So, be proud and fight back and demand that our female heroes of all aspects of life are no longer ignored, dismissed and eradicated from the pages of our history.
Begin by supporting the fight to save Sarah Chapman's grave, and sign this petition:
WE, THE UNDERSIGNED, CALL ON MANOR PARK CEMETERY TO SAVE SARAH CHAPMAN'S GRAVE FOR POSTERITY
For more information:
see the Facebook page – Matchwomen Memorial
The Matchgirl's Strike of 1888 – NW Regional Women's Committee article here
You can also watch Dr Louise Raw's talk to MPs courtesy of Parliament TV here
Source: Change.org / Sarah Johnson / Louise Raw / C Ingram