The CWU, which represents the largest number of dog attack victims in the UK, has today expressed its condolences and deepest sympathies to the friends and family of the latest dog attack fatality in Huddersfield, which came just week after one of its members was savaged and severely injured in a dog attack in the same area.
A 52 year-old man was killed this week while trying to protect his own small dog after the attack was launched in the Sheepridge area of Huddersfield on Monday. The owner a 31 year-old man has been arrested.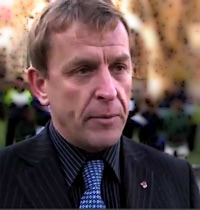 Not far from the location of Monday's fatality, a postman was attacked and received very serious arm injuries requiring emergency treatment and plastic surgery, when a dog leapt a garden fence and attacked him while on his rounds in the Meltham area of Huddersfield on 22 July.
Dave Joyce, CWU national health and safety officer, who spearheaded the union's successful 'Bite-Back' campaign to revise the UK's dangerous dogs laws, said:
"This is another tragic loss of life and a big concern to our union."
Dave added:
"The CWU sends condolences to the family and friends of the victim, but we've done this on too many occasions now.
Although our campaign succeeded in changing and toughening up the law and sentences, this latest death, the 30th since 2005, highlights again the danger posed by dogs and the need to tackle irresponsible ownership.
The problem is 'on the other end of the lead'. How many more lives must be lost before more effective action through adequate resources and controls are put in place. We still get 3,000 to 4,000 attacks on our members every year and this must stop. The breed and type of dog is secondary to the bad ownership problem. These people shouldn't have dogs at all."
CWU has been campaigning for changes to the UK's dog control laws through its Bite Back campaign, which was set up in 2008 following near-fatal attacks on two postal workers in Sheffield and Cambridge. CWU's campaign has achieved new laws in Scotland and Northern Ireland, with Wales also currently legislating.
The CWU campaigned for seven years to get the law changes in Scotland, then Northern Ireland in 2011 and finally in England and Wales in 2014. Over that period, 30,000 postmen and women and hundreds of telecom engineers were attacked by dogs, with many seriously injured.
Some 70 per cent of these attacks take place on private property where irresponsible owners were previously immune from criminal prosecution. The changes extended the law to apply everywhere plus introduced extended police seizure powers and tougher sentences of up to 14 years in jail and unlimited fines.
Dave Joyce concluded:
"More police dog legislation officer and dog warden resources are needed and an injection of resources into public awareness campaigns, training and ownership controls need examining.We cannot allow this situation of dog attack deaths to continue at the present rate – it's not acceptable in a civilised society."
For more information please visit CWU's website campaign page – Dangerous Dogs – Bite Back
Source: CWU