Website Pulse Today is reporting on further NHS insanity being created by Secretary of State for Health, Jeremy Hunt!
He wants to use the already discredited NHS 111 call centres telephone advisory service, to triage patients before allowing them to attend A&E – unless they arrive in an Ambulance first!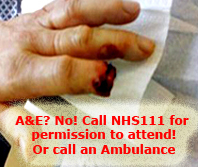 So, you are suddenly without part of a finger having just cut it off with garden sheers, by accident of course. Or in the case in the pic to the right, you lost it in a dangerous dog attack!
You are quite able to walk, have someone to drive you to A&E and off you go, only to be asked " Have you got your referral reference please?" You are then refused access to the A&E because you didn't call the NHS 111 help line and get permission via a referral to go to the A&E!
Given the problem over resourcing of the NHS 111 service, medically untrained staff using computer prompts and dialogue, and the lack of doctors and senior nurses available to the call centres; it is easy to see how this move could well cost lives, as some claim it already has done!
So, just to clarify what is being proposed:
NHS England is considering pilots to stop walk-in patients attending A&E departments, requiring them to be referred by a GP or NHS 111.
The Pulse article explains:
Dr Helen Thomas, national medical advisor for integrated urgent care at NHS England, said NHS England 'may well pilot' a 'talk before you walk' scheme that requires all patients – unless they come via ambulance – to be referred or speak with a GP or other clinician before attending A&E.
She suggested that the talks have involved the health secretary at some level, but added that they were at an early stage.
It is an attempt to reduce demand that is threatening to engulf secondary care and emergency care services this winter.
You can read the full article here
Source: Pulsetoday