There are several organisations persuing Jeremy Hunt in court over his plans to fully privatise the NHS which is well under way following NHS boss, Sir Simon Stevens former head of United Health in Europe (6th largest US Healthcare company); fragmenting the NHS into 44 separate organisations with their own budgets in the form of Accountable Care Organisations.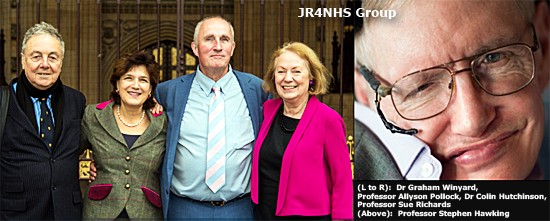 One anti-privatisation campaign group called JR4NHS includes senior NHS doctors, Professors and one Professor Steven Hawking has been granted a Judicial Review into Accountable Care Organisations after against Jeremy Hunt and NHS England.
These organisations in the US are neither Accountable nor do they Care as numerous videos available on YouTube including Michael Moore's documentary film 'Sicko' which effectively lifts the lid on the US system that this Tory government want to bring to the UK.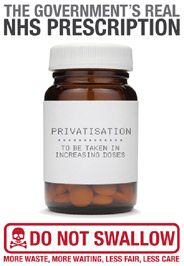 Hunt's plan is for commercial companies to run health and social services across each of the 44 'regions' of the NHS facilitating back-door privatisation. As in the US, boundaries between different parts of the NHS that pay for and provide care, such as hospitals, GPs and clinical commissioning groups, would be dissolved.
Senior healthcare professionals and Professor Hawking argued an act of parliament is required, and that MPs and Lords must scrutinise the proposals, before the policy is implemented and any changes to regulations are made. Hence their success in being granted the Judicial Revue.
Given that Sir Simon Stevens is head of our NHS (since 2014), it is likely that under a UK/US Trade Deal, these ACOs will be actually run by American Healthcare bosses and American Insurance Companies.
Again as in the US, Accountable Care Organisations (ACOs) responsibility for patients in their areas could lead to newly merged NHS super-organisations or a non-NHS body being awarded contracts to manage and provide entire packages of care. They are free to choose to either subcontract the service or provide it themselves.

Campaigners say this would allow ACOs to control the allocation of NHS money but their accountability for spending it and their obligations to the public would be under commercial contracts, not parliamentary statutes.
The Department of Health describes campaigners' criticisms about ACOs as "misleading" and "irresponsible scaremongering".
Last week Jeremy Hunt conceded that a national public consultation was needed, although in practice this is likely to take the form of previous so-called public consultations on the NHS – unannounced with specific narrow questions having to be answered with no ability to address issues and concerns not covered by those questions. Despite this, delay to his further re-structuring of the NHS, Hunt told a House of Commons Select Committee on Health that he still intends to go ahead with his plans within the timescale of April 2018 as previously advised.
However, despite the view of campaigners and indeed of the Labour Party leadership at least one Labour MP seems to be in favour of Hunt's plans for the NHS and completely in denial of the true aims and consequences of the introduction of ACOs into the NHS. Ben Bradshaw can be seen in the video below, actually agreeing with Hunt's false claim that ACOs are not about privatising the NHS.
Watch the video below in which Hunt and Bradshaw exchange agreement on ACOs. Apologies as the live recording includes a loud bell telling MPs that voting is about to take place in the House:
The extent to which 'double-speak' is being employed by NHS England can be seen in their comment in The Independent newspaper:
An NHS England spokesperson described the judicial review as a "mistaken effort which would frustrate the move to more integrated care".
"The effect would be to fragment care and drive apart the very people who are now rightly trying to work more closely together on behalf of the patients they jointly serve."
Fragment care? This is precisely what the setting up of 44 regions within the NHS will and is planned to do!!
Dr Rachel Clarke, an author and NHS doctor, said anything that allows for greater scrutiny of the ACOs could "only be a good thing".
"When long-term NHS contracts are being rewritten covertly, behind closed doors, it is impossible not to fear their potential impact on our health service. If ACOs are no threat to the NHS as we know it, then why are they not being talked about openly? Why are they being rushed through on the sly?" Dr Clarke told The Independent.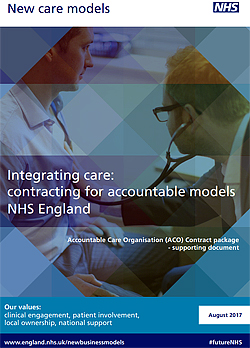 In the same newspaper article, a Department of Health and Social Care spokesperson is quoted as saying:
"We strongly resist the misleading claims in this action; it is irresponsible scaremongering to suggest that Accountable Care Organisations are being used to support privatisation and harm the fundamental principles of the NHS."
Oh, and of course the usual 'smoke-screen' words of reassurance that are used to blind the public, with the commonly used by all politicians phrase of:
"The NHS will remain a taxpayer-funded system free at the point of use"
The quote goes on:
" ACOs are simply about making care more joined-up between different health and care organisations.
Our consultation on changes to support ACOs is entirely appropriate and lawful. We believe it is right that local NHS leaders and clinicians have the autonomy to decide the best solutions to improve care for the patients they know best – and any significant local changes are always subject to public consultation and due legal process."
In reality, Jeremy Hunt is blinding Parliament and the country by argueing for 'joined-up care' and putting Health and Social Care together.
This in itself does NOT require yet another NHS re-organisation or the introduction of an American healthcare system that results in patients dieing as care is refused to those without medical insurance and hospitals argue with patients about which hospital should care for the patient because of the costs involved.
Download these documents which give you details of just what ACOs are all about:
Keep Our NHS Public – Short Briefing – Accountable care systems and the National Health Service (NHS) Jan 2018
Keep Our NHS Public – Full Briefing – Accountable care systems and the National Health Service (NHS) Dec 2017
Tories With Vested Interest In Privatising The NHS
1. David Cameron – former Prime Minister
Handed a peerage to nursing and care home tycoon Dolar Popat, who has given the Tories more than £200,000 in donations.
2. Andrew Lansley – Former Health Secretary &architect of privatisation
Received a £21,000 donation in Nov 2009 from John Nash, the former chairman of Care UK. Received a £21,000 donation in Nov 2009 from John Nash, the former chairman of Care UK.
3. Harriet Baldwin – Tory whip
Former executive at JP Morgan, a major player in private healthcare.
4. Greg Barker – former Energy Minister
Held shares in Quester VCT 5 plc, a venture capital firm with multiple investments in healthcare companies.
5. Henry Bellingham
Former director of Lansdowne Advisory Ltd, which has shares in private healthcare company Circle.
6. Jake Berry
Has registered interests in legal firm Squire Patton Boggs, which worked with multiple NHS trusts on PFI and PPP programs.
7. Graham Brady
Former advisor to PA Consulting, a management consultancy company which has worked with the NHS' new Clinical Commissioning Groups.
8. Simon Burns – former Health Minister
Attended an oncology conference paid for by Aventis Pharma – a five-day trip to the US funded by a leading drug firm.
9. Nick de Bois
Was the majority shareholder in Rapier Design Group, an events management company heavily involved with the private medical and pharmaceutical industries.
10. Steve Brine
Received almost £15,000 in donations from James Lupton, the chairman of investment bankers, Greenhill Europe which has a global network of corporate relationships in the healthcare sector.
11. Aidan Burley
Received six bottles of wine from Hitachi consultants for a speech in 2011. Hitachi Consulting UK built an online 'portal' for NHS commissioners to help them monitor performance.
12. Damian Collins
Spent almost a decade working for marketing agency M&C Saatchi, whose clients include PPP healthcare, AXA Insurance, AstraZeneca, Pfizer and Merck
13. David Davis – Brexit Lead Minister
Received a payment of £4,250 for a six-hour speaking engagement for private health insurance company Aviva.
14. Jonathan Djanogly
Received £1,900 from Huntleigh Healthcare Ltd, which manufactures medical and orthopaedic equipment and instruments.
15. Richard Drax
Received £14,000 in a series of donations from Derek Luckhurst, chief executive and owner of care home group Agincare.
16. Iain Duncan-Smith – Former Work and Pensions Secretary
Has shares in hygiene technology company Byotrol plc, which sells products to the NHS.
17. Philip Dunne
Was a non-executive director for investment firm Baronsmead VCT 4 plc, which had multiple investments in private healthcare companies.
18. Michael Fallon – Former Defence Secretary
Former director of Attendo AB, -a Swedish private health company.
19. Mark Field
Was a board advisor to Ellwood and Atfield; a recruitment firm which recruit for NHS positions and private healthcare.
20. Liam Fox – Trade Secretary
Received £5,000 from investment company IPGL Ltd, who purchased healthcare pharma company Cyprotex.
21. George Freeman
Has shares in Hill House Assets Ltd, formally private health firm 4D Biomedical Ltd.
22. Mike Freer
Provided marketing advice to CareMatters, a financial planning company for care homes.
23. Richard Fuller
Worked for L.E.K consulting, which has six 'partners' in European healthcare.
24. Richard Graham
Received £3,000 from asset manager Crispin Odey, a major investor in Circle.
25. William Hague – Former Leader of the Commons
Received a £20,000 donation from MMC Ventures, which parts owns The Practice plc which runs 60 GP surgeries.
26. Philip Hammond – Chancellor
Beneficiary of a trust which owns a controlling interest in healthcare and nursing home developer Castlemead Ltd.
27. Mark Harper
Received £5,000 from asset manager Crispin Odey, a major investor in Circle.
28. Nick Herbert
Received £15,000 in donations from Caroline Nash, wife of former Care UK chairman John Nash.
29. Jeremy Hunt – Health Secretary
Received £32,920 from hedge fund baron Andrew Law, a major investor in healthcare firms.
30. Margot James
Had a key role at marketing giant WPP Group, which had a long list of healthcare clients.
31. Sajid Javid – Culture Secretary
Received £11,000 from Moundsley Healthcare Ltd last year.
32. Jo Johnson – Downing Street policy adviser
Received £6,000 from asset manager Crispin Odey, a major investor in Circle.
33. Kwarsi Kwateng
Worked as an analyst for Crispin Odey's hedge fund Odey Asset Management.
34. Mark Lancaster
Former adviser to property venture capital firm Company Palmer Capital Partners Ltd, a funder of Danescroft Commercial Developments, which has worked in the healthcare sector.
35. Dr Phillip Lee
Has worked as a freelance or Medical Solutions Ltd, which provided medical cover for events.
36. Oliver Letwin – former shadow chancellor
Was a non-executive director of N.M. Rothschild Corporate Finance Ltd, which invests heavily in healthcare.
37. Peter Lilley
Non-Executive director of management software firm Idox plc, which provides services to the NHS Health Libraries Group
Source: Keep Our NHS Public / Shank's Pony / The Independant
Posted: 1st February 2018