Irresponsible Dog Owner pays heavy price for allowing his out of control dog to bite off the tips of a Romford Postwoman's Fingers.
CWU member Claire Offord had only been a Postwoman for five months when on the 23rd February this year 2016 she was delivering to an address in Romford, Essex when without warning her hand was savagely seized as she pushed mail through a customer's front door letterbox.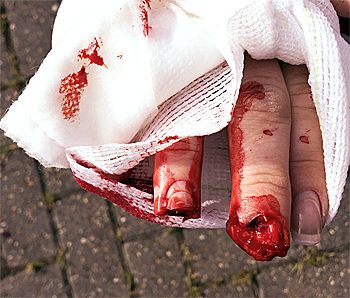 The attack was so ferocious that the tips of her fingers were completely bitten off by an animal she couldn't see.
Claire was rushed to Hospital where she underwent emergency surgery and a course of plastic surgery and treatment followed to avoid dangerous infection and mend the damage. Apart from the terrorising experience along with the immediate pain Claire suffered physical and physiological injury and was put into financial difficulties due to her short service not qualifying her for full sick pay.
Immediately after the attack Royal Mail managers visited the address and imposed a Delivery Suspension. The Police were called and they acted swiftly, seizing the dog within 4 hours and arresting the dog owner at his address.
CWU Romford & District Amal Area Safety Rep Ryan Ward said:
"Clare has done nothing wrong in relation to the avoidable attack she fell victim to. My Investigation discovered that Walk Safety Logs and Walk Risk Assessment Folders were not up to date in the Delivery Office and the files contained no relevant information regarding any dog residing at the said address. No 'Posting Peg' (letterbox delivery safety device) had ever been issued to Claire since commencing employment last October and as a 'Reserve duty' worker, covering many different rounds when people were off on sick or holiday, Claire was on a walk that was unfamiliar to her.
I found that several of Claire's colleagues at the Delivery Office mentioned that they were aware of the dog that attacked Claire as it had been a problem in the past, but sadly several near misses had not been recorded and the details of the Dog had not been logged to warn staff covering that delivery round".
Ryan added:
" After this attack discussions took place with Safety and Operational Managers and the workforce at every Delivery Office in the Essex were briefed on using the 'Posting Peg' and not to put fingers through letterboxes."
Finally with the help of CWU National Safety Officer, Dave Joyce, Claire was restored to full pay under the Nationally Agreed 'Royal Mail Dog Attack Compensation Scheme'."
At Barkingside Magistrates Court on Friday 6th May, the unfortunate, innocent victim was in Court when the dog owner and defendant pleaded guilty and was convicted of an aggravated offence under the Dangerous Dogs Act 1991, of being the owner of a dog dangerously out of control causing injury. He was ordered to pay Fines, compensation and costs totalling £8,793 from which the Postwoman received a compensation order for £2,764.
Additionally the Judge placed a 'Contingent' (or Suspended) Destruction Order on the Dog and imposed a Control Order stating that the Dog must at all times be on a Lead and Muzzled in Public Places and the Owner must have a 'Mandatory' Third Party Liability Insurance Certificate for the life of the Dog.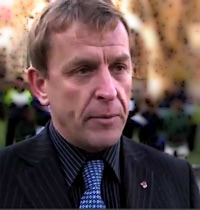 CWU National Health and Safety Officer Dave Joyce commenting on the case said:
"The Union welcomes the outcome of this case and hope the message gets to other dog owners that if they fail to control their dogs then there's a very heavy price to pay. Dog owners convicted of dangerous dogs offences will face harsher punishments under the 2014 changes to the law, won by the CWU's 'Bite-Back' campaign and in July this year the Sentencing Council's new guidelines for England and Wales will come into force and sentences are likely to be even higher.
Additionally the guidance will help ensure that Courts across the Country should be more consistent with sentences which is something lacking presently. We in the CWU know better than any other organisation that irresponsible owners' dogs put our members and members of the public at risk of injury and even death.
The amendments to the Dangerous Dogs Act which our campaign won, also extended the law to include attacks which happen on private property where 75% of attacks on Postmen and Women take place, just like Claire Offord's attack. Prior to May 2014 the dog owner in this case would have been immune from prosecution, Because of the changes the CWU won to protect its members he paid £8,793 in Fines and Costs and could have gone to Jail"
Source: CWU