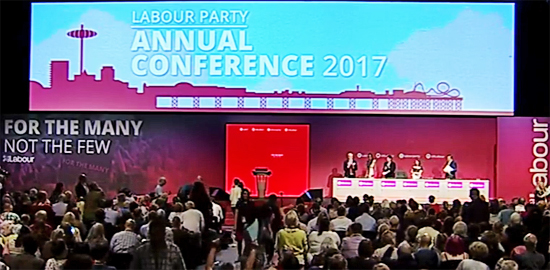 Brighton – Sat 23rd September to Wednesday 27th September
This page brings you the key speeches from Monday's session of this year's Labour Party Conference being held in Brighton.
Policy debates today on:
Brexit and Internationalism, the Economy, plus Jobs, Living Standards and Equalities.
Monday September 25th

---
Commenting after a superb and standing ovation deserving speech by the 85 year old political veteran, Andy Kerr CWU's DGS (T&FS) who was chairing this mornings conference session said, "That was John McDonnell's warm-up act!"
Proclaiming that the Labour Party manifesto was "… the best since 1945" Dennis Skinner rose to a huge welcome from cheering and standing delegates across the hall.
---
John McDonnell, Shadow Chancellor of the Exchequer
Claiming the Tories have teleported their government back from the 1800s, John rose to a standing ovation and, indeed finished his 30 minute speech to a hall of delegates applauding and on their feet; following John McDonnell's policy announcements on student debt, PFI, credit card debt, and above all the renationalisation of Gas, Water, Electricity and our Railways.
He paid tribute to his team and especially to his new Parliamentary Private Secretary, newly elected MP Karen Lee whom he said was elected and is a nurse. She took up her post and then realised her local hospital was short of nurses, and then went back and did her shift! That is the act true socialist, he told conference to much applause.
Once again young people were applauded for their political activities and support for the Party, not only in the General Election but those joining Trade Unions and fighting for decent pay, terms and conditions. He praised those McDonald workers who had joined the Baker's Union and are now fighting for a pay rise and changes to their contracts.
---
Dave Ward, CWU General Secretary
Supporting a composite motion on worker's rights, Dave was cheered by CWU delegates as he took the platform and advised Conference that the CWU and its membership were at the forefront of fighting for a new industrial strategy in defending their pay and pensions for those working in Royal Mail.
Tory Government who "…are building an economic model that means you work till you drop!"
He told Conference that there are three things that the CWU want to highlight in this composite:
We should set up a publicly owned Post Bank to the end managed decline of the Post Office network. Secondly, we should commit to public investment into super and ultra-fast broadband. That's the way the whole country is going benefit from the digital economy. Thirdly, we need a complete overhaul in the postal industry.
Reminding Conference of the ballot for industrial action currently being gone through, he told them: "On the 3rd October the results of our membership ballot for industrial action will be known. I am confident we will smash the 50% threshold they have set in those draconian laws."
He said that since privatisation of Royal Mail, over £1billion "… has been sucked out of Royal Mail, in dividends in the last 3 and half years since privatisation!"
In closing Dave said: "The CWU is fighting for industrial change. Support a bold new deal for workers across the UK, and in the coming weeks support your Postal Workers who are fighting for both these things in their industry!"
Andy Kerr CWU's DGS (T&FS) who chaired this morning's session of Conference, couldn't resist a thumbs up and commenting, "Well done boss!" as Dave left the rostrum to loud cheers from delegates.
---
Emily Thornberry, Shadow Foreign Secretary
Emily was greeted with a warm response and laughter when she mentioned the 'high-five' that went wrong and broad cast on national TV during the general election. She applauded Jeremy Corbyn's 'inspirational' leadership which made such a difference in June's election which showed that standing on a radical manifesto "…there is no seat we cant win and no tory we can't bin!"
Taking a swipe at leading Tory politicians and suggesting unseating the likes of IDS and Amber Rudd at the next election, she suggested that Boris Johnson was sick of being blamed for the way the Brexit is going and for the false promises he made during the Brexit campaign.
She said despite his denials perhaps he should be given a paternity test for ownership of the Brexit campaign and appear on the Jeremy Kile show were it will be announced "I'm sorry Mr Johnson, we've got the paternity test results back, and this one looks like it is one of yours!" she added, "We have calculated your paternity payments and its £350 Million per week!".
---
Keir Starmer, Shadow Secretary for Exiting the European Union
Reminding Conference that people's mortgages, pay, jobs and standard of living are at risk due to Cameron's "reckless gambled this country because he couldn't hold his party together!."
He accused Theresa May of leading us to a hard Brexit in order to keep her job, and the general election which was meant to be a "coronation, but it has left us with a broken government, too weak to govern, to divided to negotiate Brexit. Constructive ambiguity is now their official policy!"
So tragic because Peoples jobs are at stake.
Turning to Boris Johnson he said he was "Ruthless about his own ambition: reckless about our country!"
He accused Theresa May of being "…focused on her own survival rather than national interest."
"There is nothing patriotic about joy-riding our economy off a cliff!" he said. Adding, "Conference this has got to stop!" before outlining Labour's policy approach to Brexit "…an approach that is both democratically legitimate and economically sensible that respects the referendum result and puts jobs and the economy first."
Labours agreed position he told Conference was that "Transitional arrangements the same as we currently have with the EU, is in the national interest." We will remain in both the single market and customs union during that time.
---
Sadiq Khan, Labour Mayor of London