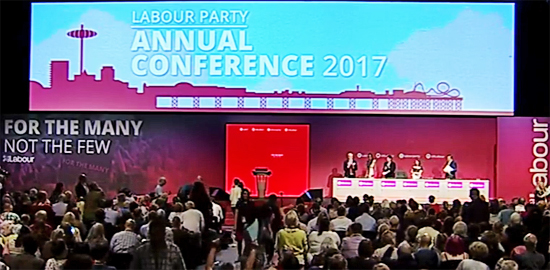 Brighton – Sat 23rd September to Wednesday 27th September
This page will bring you the key speeches from this year's Labour Party Conference being held in Brighton, beginning with:
Labour Women's Conference Saturday 23rd September
Here are three key speeches made at this year's Labour Party Women's Conference on Saturday:
Dawn Butler MP – Shadow Secretary for Women and Equalities
"Women spend £5k through out their lives on period products" she tells delegates and then announces Labour's campaign to end period poverty
Shadow Foreign Secretary, Emily Thornberry MP's full speech
Jeremy Corbyn's full speech
---
Labour Party Conference 2017 Sunday 24th September
Round-Up Of Speeches
Tony Kearns CWU – Protecting Communities
CWU's DGS Tony Kearns tells conference in reference to Climate Change; "There are no jobs on a dead planet!" In his contribution he made it clear that this issue was probably the most important that we have ever faced.
---
Sara Callaway, Hampstead & Kilburn CLP – Protecting Communities
In an emotionally charged speech, she spoke about refugees and asylum seakers and their value to the UK, telling Conference: 'there has been an official policy of destitution of refugess since 1999' and that they were expected to live on £35 per week!
Female refugees suffer sexual and other violence even inside detention centres and that 70% of these women have suffered rape! Their mental health suffers as a result of this and being held in these centres.
She also told delegates that reminders of the Slave Trade can be seen across the whole of the UK and that it had brought £7.5 Trillion of wealth to the country and that they had paid with their blood and tears.
---
Paula Peters, Bromley & Chisslehurst CLP – Protecting Communities
Disabled delegate and member of Disabled People Against Cuts (DPAC), Paula spoke with anger at the cruel and terrible cuts at the hands of this Tory Gvoernment. She reminded Conference that the United Nations had condemned the UK's treatment of disabled people which ti said was a 'human catastrophe' in the proportion of damge being inflicted on the disabled people of the UK.
She also reminded the delegates that the UK was in fact failing to abide by its commitments as a signatory to the UN Charter on Disabled and was the only European country to fail in its responsibility.
---
Michelle Dorritt, Folkstan & Hythe CLP – Protecting Communities
First time speaker at Conference, and former Tory voter, Michelle AKA 'That woman who took on Amber Rud' on telly in Question Time; tells Conference her story of near homelessness and how she was saved from the streets by her local council in a way that kids of today would never be!
---
Diane Abbott MP – Shadow Home Secretary
She was introduced to a standing ovation as she began her 19 minute speech to Labour Party Conference delegates, telling them that Labour will never use immigrants to blame for economic and social problems. She reminded Conference that Theresa May was using EU migrants as a 'bargaining chip' in the Brexit talks.
Critisising the Tory policy of cutting 20,000 Police and thousands of Fire-Fighters, she committed Labour to reversing their cuts and resourcing Police, Fire and Ambulance services with staffing levels required to provide these most important public services.
Emotional at times, she told applauding delegates of her family history from her parents coming to the UK in the 1950s from their home in and said that no one in her family would have believed that she could go from such humble backgroudn to becoming a Labour MP and now Shadow Home Secretary.
---
Carwyn Jones, First Minister For Wales and Labour leader Of Welsh Assembly
What does Dante and Theresa May have in common? That is the question that CArwyn pout to Conference in what was a very humerous address from the Fisrt Minister for Wales.
But humour was not only in hi8s message, but one of hope for the type of country we want the UK to be. He oustlined just what Labour in Wales was able to do from cutting waiting times for ambulances down and introducing a new system for their resourcing and assigning to emergency calls, to now tution fees for studenst sin WAles and absolutelt NO privatisation of the NHS in Wales!