Whilst this headline may not be totally correct, in terms of the final result of the general election; the fact is that Labour did have a major victory on 8th June 2017!
As the tabloid media peddled lies and TV news broadcasters weren't much better, their forecasting of 70 to 100 seats for 'no mandate May' failed to materialise in a blaze of failure!
The final tally of seats, has robbed Theresa May not only of her demand for total annihilation of any opposition to her rule, but forced her to get into bed with one of the UK's extremist right-wing political parties, N.Ireland's Democratic Unionist Party (DUP)!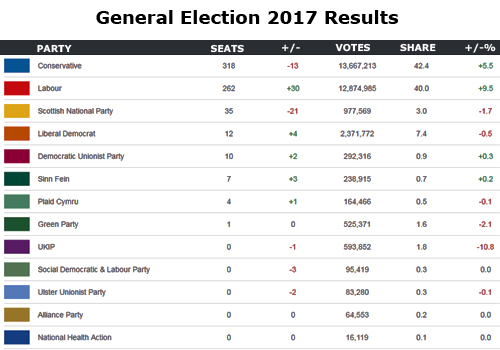 Ironically, the party was of Ian Paisley's making and as we all know, he went on to not only work with Sinn Fein's Martin McGuiness in a power sharing peace accord, but the two former enemies became close friends.
But, since even before both passed away, the DUP seems to have been going back to it's old ways of very dark politics, with its anti-abortion and anti-gay marriage platform of creating division instead of bridges of unity.
Not surprising therefore, that a party in England who have spent the last 7 years creating as much division as possible in the country by pitting generation against generation, worker against worker, and gender against gender; should now be happy to get into bed with them in order to keep hold of power. Such has always been the Tory way!
It is difficult now to see, with parliamentary MPs coming together, and supporting comments made by both Owen Smith and Chuka Umunna; how Labour led by Jeremy Corbyn, can be stopped at the next general election which will surely be before the end of 2017!
Source: BBC News / C Ingram