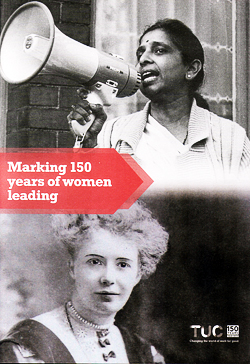 International Women's Day in the same year as we celebrate 150 Years of the Trade Union Congress (TUC), is being celebrated today (Sat 10th March) with two events in Liverpool.
On 2 June 1868, the Trades Union Congress was formed at the Mechanics Institute in Manchester.
So, this year the TUC celebrates its 150th anniversary and with it, a century and a half of female and male Trade Unionists working together to change the world of work for good.
Their 150 Years TUC website explains how the TUC came about:
It all started with a simple question. Samuel Caldwell Nicholson, a typesetter and union officer living in Manchester asked: "why not have a congress of our own?" The trade union movement came together in Manchester, resolved to work as one, and the rest, as they say, is history.
In joining up with IWD2018 and celebrating the women involved in the beginnings of Trade Unionism, once again highlights just how women's history is overlooked, even today in 2018.
The Museum Of Liverpool Life gives details of the event: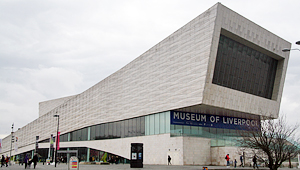 'We are delighted to be joined by Professor Krista Cowman, University of Lincoln, and author of 'Mrs Brown is a Man and a Brother – Women in Merseyside's Political Organisations 1890-1920', who will talk about Jeannie Mole, and Lynn Collins TUC North West Regional Secretary who will introduce the life of Mary Bamber.
The event will also hear from present day women union campaigners, sharing their experiences of organising Merseyside's women today.'
Indeed if it were not for this celebration of 150 years of the TUC, many would never know of the work done by Jeannie Mole in the great city of Liverpool and her life-long involvement in Trade Unions and how she along with other women ensured that Trade Unions flourished on what is now Merseyside.

Women such as Mary Bamber and Bessi Braddock may be better known, but again not so much by the general public and certainly not by subsequent generations.
Women in the North west have always played a vital and inspirational part in shaping trades unions, so on the anniversary of the TUC and 100 years after some women first achieved the vote, the Museum Of Liverpool Life looks at some of the Liverpool women who have played their part in changing the world of work.
A woman well ahead of her time, who worked with the poor of the city and rejected fashionable clothing that was in part the blight of women's lives; Jeannie Mole was remembered in the city earlier in the day, with an unveiling of a blue heritage plaque in Bold Street where she lived, and in the Women's history event held in the Museum of Liverpool Life at the Waterfront at Mann Island at 1pm.
CWU members, Karen Kendrick, Beverly Kenyon and Mary Redmond attended the unveiling of the plaque, with Karen and Beverley attending later at the museum.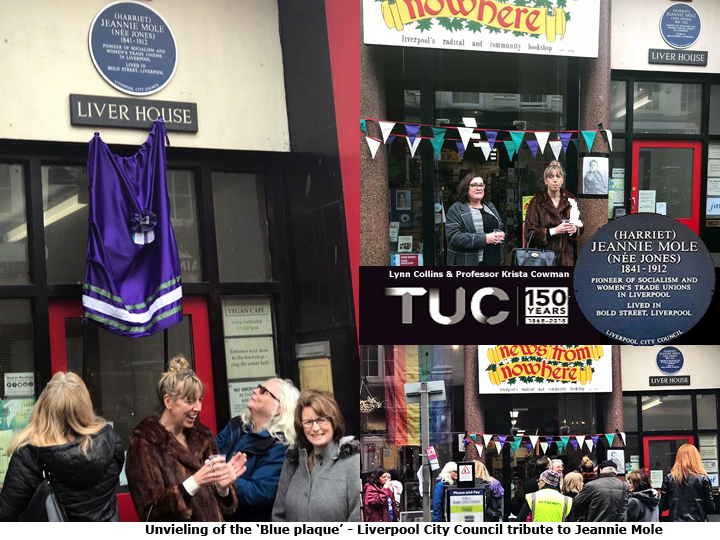 The event in the Museum of Liverpool Life on the water front was very special and showed the pride the women Trade Unionists and activists on Merseyside are of their heritage in socialism. It was introduced by Vicky Knight, Chair of the TUC Women's Committee and President of the UCU, who in welcoming everyone; gave a brief rundown of the guest speakers and the agenda for the two hour event.
The information leaflets and the speakers were of a quality that did the subject matter of women in Trade Unions proud and as did the slideshow from the TUC which gave a potted history of women organised across the country and higfhlighted some of the very important disputes and fights for the rights of not only women, but all workers rights at work, whether it be health and safety, pay, working hours, and pensions.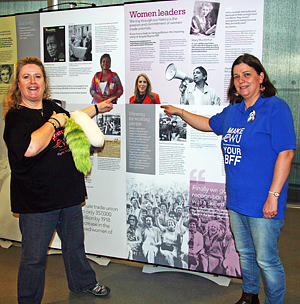 Two of our key female officers in the CWU, NW Regional Women's Officer Karen Kendrick who also sits on the NW TUC Women's Committee and Berverly Kenyon, vice chair of the CWU NW Regional Women's Committee and health and safety officer at IPS bootle Branch; attended the event.
It was clear how much their work as women officers of the Union and how the CWU is respected by the fact that they were well known to most of the women attednign the event, some of whom have spoken previously at the NW Region's WoT events.
In fact so much so that, in a warm welcome at the door, this website editor was told that he had to prove he was from the CWU and then only if Karen could vouch for him, was he going to be allowed into the room holding the event!
It was good to see a good mix of generations amongst those at the event and non-Trade Union activists too. The audience response to the speakers clearly showed that women of today, certainly in Liverpool and the North West feel empowered and are no longer going to allow the status quo to prevail in terms of the inequality and discrimination that women still endure on a daily basis, both in the workplace and in society as a whole.
To quote Karen at the recent NW Regional AGM, "this year truly is the year of women!"
Karen and Beverley had this to say of the event and exhibition:
The key speaker, Proffesor Krista Cowman began the events by speaking about the life and times of one woman that history has been made to forget. A strong and principled woman who did not allow peer pressure of the society in which she was born, control her life:
Jeannie Mole was pivotal in the City in promoting and sustaining the work of Trade Unions, and it is only right and fitting for the TUC to recognise her for the great woman activist she was, in addressing the poverty of their lives and the awful working conditions of the people of the city.
Deaths and injury at work were common then, and sadly this is still the case today in the UK and around the world as a whole. But her work and that of thousands of women and men in the Trade Unions, changed forever the way in which society sees the world of work, and the need for decent terms and conditions.
Indeed, we remember too, that her work which was ostensibly in the field of health, safety and welfare of working people, exemplified the reason why Trade Unions came about in the first place.
---

Here, in the words of the TUC is the life of Jeannie Mole, and of Mary Bamber:
Feminist, socialist, trade unionist, dress reformer– here's what you need to know about Jeannie Mole.
She was born Harriet Jones in 184.
Her mum was Harriet too, so the baby was called Jeannie. At 19 she married fruit merchant Robert Willis. And then, in allegedly controversial circumstances, Jeanie divorced Robert and married another fruit merchant, William Mole.
And so Jeannie Mole was born –a woman who wasn't afraid of scandal.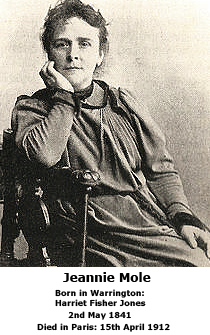 Jeannie was pretty well-off, but she chose to move beyond fashionable society.
She travelled to New York and got involved in the black rights movement at a time when slavery was yet to be abolished.
Back in England, she worked in London's slums. She moved to Liverpool with Mr Mole in 1879 and began her quest to improve the lives of Liverpudlians living in poverty. Recognising that people could not "afford out of their wages such food as would give them energy and vigour," Jeannie funded a 'socialist food van'. She also campaigned for a 'people's hall' for the working classes.
She played a huge role in bringing socialism to Liverpool
Jeanie found just six socialists in Liverpool. So she hosted propaganda meetings at her home on Bold Street and formed the Worker's Brotherhood, the first socialist society in Liverpool. She became vice president of the Liverpool Fabian Society in 1895.
She organised poor working women
In 1889 Jeannie helped set up the Liverpool Workwomen's Society, which represented book-folders, tailors and cigar makers. These were poorly paid trades and women dominated them – there were four women for every man. Later, the society became the Liverpool Society for the Promotion of Women's Trade Unions, expanding its membership to other trades in response to the city council's inaction over the appalling conditions in sweatshops. Jeannie set up various unions including one for laundresses and washerwomen, most of whom were Chinese.
In 1894, Clementina Black set up the Women's Industrial Council and Jeanie quickly helped found a Liverpool branch. Unions sprang up for upholsteresses and marine sorters (or fish processers).

She helped rope workers to strike – and win
In 1895, Jeannie used her position in the Liverpool Women's Industrial Council to encourage Liverpool's women rope workers to strike. They were being fined for minor wrong doings like turning up late. The strike was a success but other parts of the council disapproved of the action. As a result, Jeannie had to distance herself from the group that she had helped to found.
She fought for justice
When a woman was killed in an accident at the Old Swan Rope Works, Jeannie was determined that the bosses wouldn't just sweep the tragedy under the carpet. She attended the trial and ensured that the jury made recommendations to prevent future accidents. She also made sure that the woman's grieving family received compensation for their loss.
She rejected corsets
Jeannie wasn't going to let the restrictive clothes of the era hold her back. As an early supporter of dress reform – a feminist movement against impractical, uncomfortable Victorian fashion – Jeannie wore a comfy Grecian-style gown. Other prominent socialists like Julia Dawson soon copied her style.
Mary Bamber and Bessie Braddock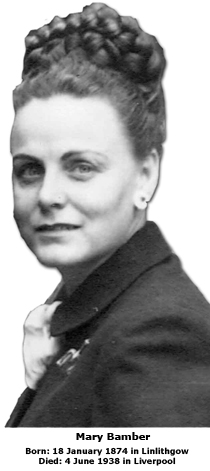 Mary and Bessie were trades union and political forces to be reckoned with. We take a look at the common threads of their lives.
Who were they?
Born in 1874, Mary 'Ma' Bamber was an active socialist, trade unionist, social worker and suffragist and one of the first women to be elected in Britain when she became a Labour MP in 1919.
Bessie Braddock was born in 1899 and attended her first political meeting at three weeks old! She followed in Ma's footsteps, becoming an active trade unionist and a prominent Labour MP.
They worked and campaigned together
In 1911 both Mary and Bessie attended the 'Bloody Sunday' demonstration in the Liverpool general transport strike. Bessie was just 11.
Leading up to the First World War, Mary became well known through her work as an organiser with the Warehouse Workers Union.
Her focus was on empowering women, and encouraging low paid workers to organise and attend union meetings. Bessie started work there after the War.
They supported the 1922 hunger marchers when they passed through Liverpool.
They worked tirelessly for Liverpool's poorest
From 1906–1907 Mary helped to make soup sold for a farthing a bowl as part of a collective helping Liverpool's poorest. She visited the sick, collected for the unemployed and frequently spoke at outdoor meetings.
Bessie became a councillor in 1930 and made slum clearance her priority, once famously taking a two-foot megaphone into the chamber to force action.
They had their eyes on parliament
Mary stood as a Labour MP for Everton ward in 1919 and
Bessie became a Labour MP for Liverpool Exchange in 1945.
They ignored stigma and championed the sensitive issues of the time.
As a Justice of the Peace, Mary promoted the dissemination of contraceptive advice as a mechanism to empower women.
Bessie helped on the commission which led to the Mental Health Act 1959.
They were confident in verbal combat
Sylvia Pankhurst described Mary as the "finest, fighting platform speaker in the country". In a city that was dominated by sectarianism, Mary refused any religious identification and was a regular heckler at Catholic and Protestant rallies.
Bessie's combative style sometimes caused controversy and she didn't shy away from controversial issues, she was even briefly suspended from Parliament in 1952 after defying the Speaker.
They worked to the end
In 1938, Mary died in Liverpool, having spoken at her last meeting just two weeks before, at the age of 64. Bessie passed away in 1970, having retired from political life earlier that same year.

They continue to watch over Liverpool
Both women have statues honouring their services. Mary's at the Museum of Liverpool and Bessie's on the concourse of Liverpool Lime Street station.
---
So what did Karen and Beverley think of the event? Beverely responds:
Source: TUC / Museum of Liverpool Life / C Ingram