The Tory government have been defeated by the Trade Union movement and specifically by UNISON in the Supreme Court of Justice in London today, as the imposition of Employment Tribunal Fees by the Tory/Liberal coalition government; was judged to be unfair and illegal because it prevents workers from seeking justice against bad employers and their discriminatory and victimising practices.

Anyone in England, Scotland and Wales wanting to pursue a case against their employer has had to find as much as £1,200.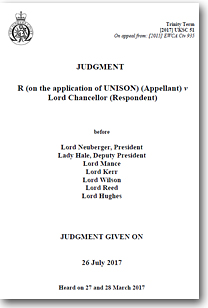 From today, ALL fees for bringing a case against an employer for unfair dismissal, sex discrimination, unequal pay, and victimisation etc are SCRAPPED!
Not only that, the Government is now forced to refund all payments made in previous cases brought since the charges were imposed in July 2013, by then Lord Chancellor Chris Grayling! This comes to more than £27 million paid out by thousands of people charged for taking claims to tribunals.
From today, Wednesday 26th July 2017 onwards, working people now have the right to take their employer to an Employment Tribunal without having to pay literally thousands of pounds in fees before being able to do so, if they have been treated illegally or unfairly by their employer.
The ruling by opens the gates to those who have faced such circumstances without having the financial backing to seek justice in an Employment Tribunal; to now be able to take their case to the courts free of charge, providing their case is within the time limits since the occasion of the incident, e.g. their dismissal from employment.
UNISON's General Secretary, Dave Prentis had this to say following the ruling today issued by Lord Reed and Lady Hale of the Supreme Court:
"The government is not above the law. But when ministers introduced fees they were disregarding laws many centuries old, and showing little concern for employees seeking justice following illegal treatment at work."
He added:
"The government has been acting unlawfully, and has been proved wrong – not just on simple economics, but on constitutional law and basic fairness too."
Concluding, he said:
"It's a major victory for employees everywhere. UNISON took the case on behalf of anyone who's ever been wronged at work, or who might be in future. Unscrupulous employers no longer have the upper hand.
These unfair fees have let law-breaking bosses off the hook these past four years, and left badly treated staff with no choice but to put up or shut up.
We'll never know how many people missed out because they couldn't afford the expense of fees. But at last this tax on justice has been lifted."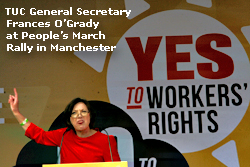 The TUC responded immediately the judgement was announced today, with General Secretary Frances O'Grady issueing a press release:
"This is a massive win for working people. Congratulations to UNISON for doggedly pursuing this case. Today's result shows the value of working people standing together in trade unions.
Too many low-paid workers couldn't afford to uphold their rights at work, even when they've faced harassment or have been sacked unfairly.
Tribunal fees have been a bonanza for bad bosses, giving them free rein to mistreat staff. Any fees paid so far should be refunded as soon as possible."
You can download and read the full judgement in PDF format by clicking on the judgement cover page above.
Source: C Ingram / Supreme Court / UNISON / TUC