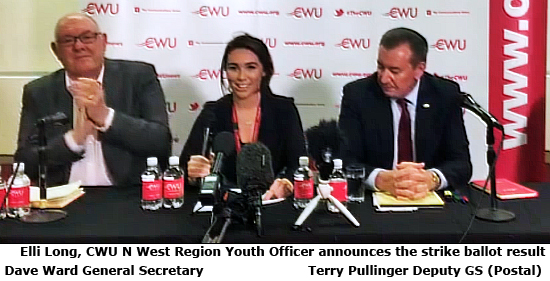 Following a long and superb Four Pillars of Security campaign utilising social media and the internet in a way never done before, the CWU postal membership were balloted on industrial action in September.
The results were announced at a press conference held at the Mechanics Institute in Manchester and it was Elli Long, North West Regional Youth Officer, who gave the awaiting CWU members and TV and press media reporters the final results of the Union's membership consultation exercise.
Today, as Elli said when announcing the results, is 'judgement day' and the 81,886 returned ballot papers were counted; giving a spectacular result in the form of a YES vote of 72,877 with a return of 73.7% The majority vote for industrial action was 89.1%
Watch the moment Elli announced the results:
Following Elli's announcement, Dave Ward GS paid tribute to all of the Union members who have taken part in both the campaign and ballot for all the hard work done in getting such a large turnout of votes in the ballot and for industrial action.
Here is the full 18 minute press conference which includes comments from both Dave Ward GS and Terry Pullinger DGS (Postal):
Below is the documentation from the Independent Scrutineers of the ballot:
---