Speaking on the Andrew Marr Show on BBC this Sunday morning, Theresa May seemed totally cold and disinterested when asked about Nurses having to use food banks.
Dismissing the question, she simply said, "There are many complex reasons why people go to food banks"
She then added: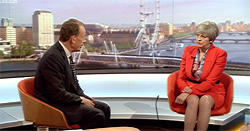 "I want to develop an economy where, yes, we have a strong economy so that we can pay for the public services people need but also we have an economy where we're creating secure jobs and well-paid jobs and higher-paid jobs for people."
She was repeatedly challenged over Royal College of Nursing figures that show nurses have had a 14% pay cut since 2010 and are having to resort to using food banks in order to eat.
Claiming that the Tory Government had put in an extra £10 Billion to the NHS. In response Marr said that this would not mean much to NHS staff who were having to use food banks, telling her "The problem they have is they haven't got enough money to eat at the moment."
He also quoted figures from the Trussell Trust charity which showed 1.2 million food parcels had been delivered under the Conservatives.
Commenting he asked her:
"You said you were going to be out there for the ordinary working people, those are people who are really suffering. I have asked you under your government, if people vote Conservative again, is that going to carry on and the answer seems to be 'yes'," Marr told the prime minister.
Earlier in the day in an interview with ITV's Peston on Sunday programme, May also refused to say she would see it as a failure if the gap between the right and poor widened under her leadership.
"I said last year I want to see a country that works for everyone," she said when asked. "I want to see country where people are able to get on in life and see a better future for themselves and their children and their grandchildren."
According to the Sunday People, 6,500 trainee nurses have had to receive help, and have been forced to turn to food banks and payday loans to eat and pay their bills.
In the meantime, last week, Labour promised to increase Nurses pay by bringing back independent scrutiny of nurses pay and to bring back student nurse bursaries.
Source: BBC / Sunday People / RCN