No sanitary protection provided!
Tampon Poverty may well be an issue for women who are homeless and for families who have no choice than to use food banks; and one the public have been made aware of in 2017 due to women's campaigning groups.
But being homeless or poor is not the only reason why women are left without sanitary protection – being in Police custody is another cause of Tampon Poverty according to a recently published case study into the treatment of women in custody.
Once frequent was the demeaning of women and sexual harassment of women in police cells, but now it seems women are being debased in the 21st Century and left with the embarrassment of menstruation being evident to male police staff when entering the cells of females in custody of menstruation age.
The Independent Custody Visiting Association (ICVA) watchdog has reported that Police are "routinely ignoring" the needs of women who are on their periods while being held in custody.
The organisation is calling for "swift action" to protect the rights of female detainees, who it says are not getting adequate sanitary care, which both demeans them and is a breach of their human rights, not to mention common respect and decency!
The watchdog, which works to help improve conditions in police custody, highlighted the case of one woman who, while on her period, had her clothes and underwear taken from her and was instead dressed in a paper suit — with no access to sanitary products.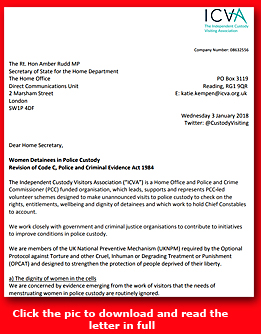 In a letter addressed to Home Secretary Amber Rudd that was made public earlier this month, the ICVA said:
"She was left in a state of vulnerability sufficient to cause concern for her wellbeing, bleeding in a paper suit, alone in a cell," and added:
"Women are frequently left without the assistance of female officers, without access to adequate and hygienic sanitary protection, or facilities for washing and changing,"
The ICVA, has gathered evidence suggesting the failure to provide sanitary care is widespread across England and Wales.
The letter also warned that these failings could be breaching the human rights of women and girls in custody, under the Equality Act 2010, and articles 3, 8, and 14 of the Human Rights Act 1998 — and "appear to fall short of our international obligations to women."
Katie Kempen, the chief executive of the ICVA, said:
"Dignity in the cells must mean dignity for all. No women or girl should be left bleeding in a cell in indignity simply for want of a difficult conversation or an inexpensive box of tampons."
The ICVA, which is funded by the Home Office and police and crime commissioners (PCC), said there should be clear guidance for police forces and support to make sure women and girls' rights are being respected.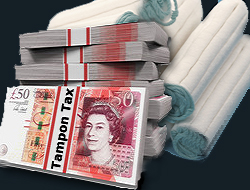 As part of this, it is calling for women and girls to be provided with access to a female officer when in custody, a hygiene pack, a regular supply of sanitary products, as well as the opportunity to replace them, facilities where they can wash their hands, privacy when using the toilet —including not being filmed by CCTV — and sensitivity during any strip searches.
Dame Vera Baird, Police and Crime Commissioner for Northumbria, described the lack of consideration of women's needs as "lamentable."
"This must immediately stop and police must revise their process," she said, calling for "action."
Perhaps the term 'lamentable' is insufficient to describe the way women are being treated and that the words 'appalling, inhumane and disgraceful are more appropriate.
Many may well ask, is this a form of saving money, whereas the Tampon Tax is a way of making money from women's needs?
Furthermore, with a female PM and Home Secretary, it is rather ironic that in the 21st Century women are still being forced to suffer indignity, and lack of human respect!
Source: Global Citizen / ICVA / BBC / C Ingram
Posted: 1st February 2018