The pure shock and horror at the news that one of the most callous Tory MPs returns to the Department of Works and Pensions(DWP), quickly turns to outrage as Esther McVey is handed the overall control of the DWP as Secretary of State!

As the 'sidekick' to Ian Duncan Smith as minister of Employment, she showed complete and total contempt for disabled people and presided over some of the most draconian and evil policies, which many believe has led to the suicide of tens of thousands of disabled people; as she robbed them of dignity, self-respect consining large numbers of them to unemployment and poverty as a result of the removal of their means of living independently through social security support cuts and removal of their mobility allowance vehicles.
The figure of 120,00 deaths of disabled people has not been 'dreamt up' but is fact according to the BMJ, and according to one Twitter commentator today is less than members of the public killed by the Luftwaffe in WWII!
Merseyside MPs responded to the news, taking to social media to express their outrage:

Replying to this tweet from NW MP Dan Carden, Jim Paterson provided these historically factual statistics:

The Commonwealth War Graves Commission lists 67,092, civilians killed by enemy action during WW2 , This means , according to the BMJ, that Tory Party austerity is more efficient at killing the British public than the Nazis
Leading the charge of outrage and incredulity that the former Wirral West MP has been appointed as the new Secretary of State for Work and Pensions, Liverpool Labour MP Luciana Berger (below, right) reminded people of the time that new Government minister Esther McVey said it was "right" and "expected" that more people were visiting foodbanks.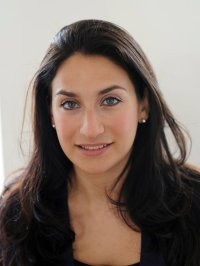 Ms McVey, who comes from Liverpool, now represents Tatton in Cheshire, took much of the blame for rolling out controversial policies such as the so-called Bedroom Tax, and stating that the use of food banks, "In the UK it is right that, you know, more people are visiting – as you would expect – going to foodbanks, because as times are tough, as we are all having to pay back this £1.5 trillion debt which spiraled under Labour.As we are all trying to live within our means, change the gear, make sure we are paying back all the debt which happened under them."
The Liverpool Wavertree MP Ms Berger, shared a clip on twitter from 2013 of Ms McVey discussing the rise of the use of foodbanks in the country – a response she described as the "worst" she had heard in seven years in Parliament.
In the clip, the Tory minister states: "In the UK it is right that, you know, more people are visiting – as you would expect – going to foodbanks, because as times are tough, as we are all having to pay back this £1.5 trillion debt which spiraled under Labour.
"As we are all trying to live within our means, change the gear, make sure we are paying back all the debt which happened under them."

She then goes on to compare the figures of people who were using foodbanks at the time with those in Germany and Canada.
Ms Berger, who tweeted that the commons episode in question still "haunts her" told the Liverpool Echo:
"In 2013 she was seeking to blame Labour, but the exponential growth of foodbanks has exploded out of control since the Tories have been in power. I have seen first hand in Liverpool the need for foodbanks. Her response was disgraceful and showed absolutely no empathy – I was on the benches going ballistic.
I have had the displeasure of sharing platforms with her on Merseyside – and I actively campaigned in 2015 to get her out. I am just appalled at this decision, she was kicked out of Wirral West because of what she did as a junior minister – and now she has been rewarded with a safe seat and a secretary of state position.
The Prime Minister said she wanted to challenge the burning injustices that are going on in our country. I would argue that many of those injustices came about when Esther McVey was in post last time."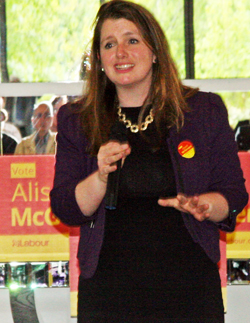 Wirral South MP Alison McGovern said:
"Like many in Merseyside, I am gobsmacked that anyone would think Esther McVey ought to be appointed Secretary of State for Work and Pensions.
People in Wirral West rejected her in 2015 when she was Minister for Work after her government failed to act on zero hours contracts, made life immeasurably harder for people with disabilities, and set in train cuts to family income that will see child poverty grow by 400,000 over the next few year.
"Her Government also introduced the 2011 changes to women's pensions that hammered women born in the 1950s."
During a Select Committee hearing in February 2015 into the new benefits sanctions, Esther McVey was presented with a picture of a claimant David Clapson who died whilst on sanctions. It was presented by his younger sister, who told McVey that: "A diabetic cannot wait two weeks." A reference to the amount of time a Jobseeker's Allowance claimant, when sanctioned, has to wait to receive a hardship payment.
When asked by Labour MP, Debbie Abrahams, how many peer reviews the DWP has carried out following the death of a claimant, McVey conceded that the figure was 49.
This was inaccurate because a Freedom of Information request by the Disability News Service found that the DWP had carried out "60 peer reviews following the death of a customer" since February 2012.
McVey refused to comment on individual cases but said that none of the reviews had found a link between benefits sanctioning and the death of a claimant.
"I think you're inflaming this," McVey added. "We followed and looked at what we did, how best we worked in supporting the individuals . . . but we ensured that we followed all of our processes correctly."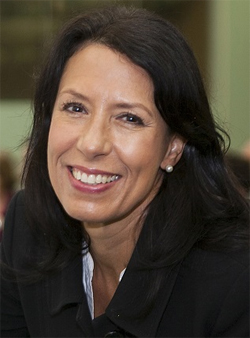 Speaking to the New Statesman after the hearing, Debbie Abrahams said:
"
Once again Esther McVey has shown a stunning disregard for the mountain of evidence provided during this inquiry from individuals, academics and organisations who have seen first-hand, or worse experienced, the effect of this government's inhumane approach to sanctioning, especially against vulnerable people.
I can't imagine how it must have felt for people like Gill Thompson, who has battled so hard to get answers about her brother's death, to have to listen to Esther McVey say support is there for vulnerable people who are sanctioned.
And, once again she point-blank refused my demand for a second, full, independent inquiry into sanctions. Anyone who's been following this inquiry and heard the evidence will fully understand why the government will never allow a full inquiry. They have too much to hide and too much to lose."
Here is Esther McVey's response to the Select Committee in February 2015 hearing during which she evades and refuses to answer the questions put to her, and specifically about the evidence of the impactg upon claimants of having their social security payments removed for anything up to 3 years:
When looking at her public responses as a minister, to the hardships of the disabled that her and IDS' policies were, and still are causing, it is easy to understand why people view her as one of the most evil politicians and akin to nazism when it comes to her views on disabled people in our society.
Here is a selection of her TV interviews when she was a minister under IDS:
Tony Livesy On BBC NW Tonight (April 2013) where she claims disabled people get better
and therefore don't need social security
McVey Tells Channel 4 News in February 2013 that "Government is treating disabled people 'generously'."
Posted: 1st February 2018