Monday 11th September
As part of its Four Pillars campaign, the CWU have designated Monday 11th September as National Gate Meeting Day.
The CWU's news section of their website announced this:

'We are asking for every single office in the UK to hold a members meeting.
We know this will be logistically difficult but please try to organise as many as you can. We want to create a wave of CWU activity across the Country and ask you to post the images on social media using #RiseUp
We will also be sharing a copy of a home mailing for members within 24hrs that you can use as a script for these meetings. We will be sending 250 copies of the poster to every branch today as a back-up.
Below is the National Gate Meeting graphic for social media and a printable "We're voting Yes' poster.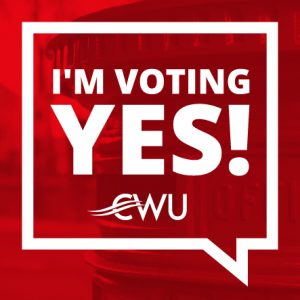 It doesn't matter if your office has 2 members or 200 – Show your pride on Monday and lets build for the YES vote'
Source: CWU