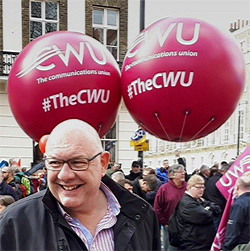 London Saturday 4th March 2017 and some 200,000 people from all walks of life, Trade Unions, and organisations concerned for the state of our NHS rallied at Tavistock Square and marched through the city to the Houses of Parliament, angry at the lack of funding and cuts to the NHS budget which has already resulted in fwer hopsital beds, wards. A&E departments; and even whole hospital closures.
This Tory government are running down the NHS, privatising NHS services such as GP surgeries, healthcare services, clinics and children's healthcare services previuously run by the NHS.
Many CWU Branches sent representatives and both senior officers of the Union, Dave Ward, General Secretary and Deputy General Secretary, Tony Kearns gave interviews to CWU News with Dave making a resounding speech at the 1pm rally in Tavestock Square central London.
Source: CWU News