But, Are CWU Election Participation Levels A Reflection Of Union/Membership Engagement?
North West CWU members across the CWU's Telecoms & Financial Services constituency in the North West have granted Andy Kerr a third term as their Deputy General Secretary, in a postal ballot conducted by independent scrutineer, Electoral Reform Services.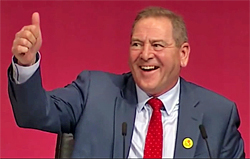 As reported on CWU HQ Website Andy said on being re-elected:
"I would like to thank all the members who have voted to elect me DGS (T&FS).
It's a pleasure to serve you for a third term and I can give my full commitment that I will continue to ensure the T&FS constituency keeps apace of the changes taking place in the industry."
He promised:
"I will ensure that we don't stand still, but adapt and change, serving the whole range of companies in which we have recognition, by ensuring our structures are in shape to represent the future diversity of our membership. I will also stick to my pledge of encouraging and developing new young leaders, creating a union that continues to modernise and grow.
"The challenges ahead in BT continue and I commit to provide leadership and a tough negotiating stance to ensure that our members working conditions are protected and enhanced.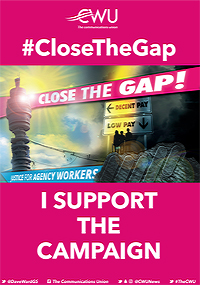 This year I will commit to end the appalling situation of agency workers who work alongside their colleagues, doing the same job, yet earning significantly less in BT. PBA (pay between assignment) contracts have to end and we will continue to lobby Parliament to ensure the Government listen and eradicate these contracts.
"I will also continue to improve our organising and recruitment strategies to increase our membership. A prime target this year is EE, where I am committed to reaching our goal of maximising membership to achieve recognition – a solution that will allow the union to bargain for better pay, terms and conditions for members working in EE call centres. I will also seek to extend the reach of recognition agreements where we can in other areas.
"In Financial Services we have just achieved recognition across the whole of Santander Technology, which is great news. I will continue to ensure our strategy across our Financial Services members serves our members well – and we continue to maximise our membership in this sector."
Andy concludes: "I look forward to serving members within the constituency into the future and taking on the tough challenges ahead."
Whilst Andy no doubt worked hard for his success, do the results like those when it comes to electing the country's MPs and Government; point to a lack of engagement with the electorate?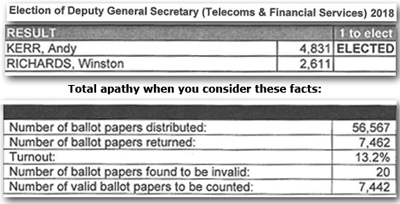 There is no doubting that Trade Union membership in the UK as a whole is the lowest it has been since the 1960s and that all Unions are feeling the effect in terms of their finances and hence ability to maximise their effectiveness.
The CWU's Re-Design project is a response to the loss of membership which is partly caused by a lack of recruitment of new members, retirement of members whose membership then relapses; and the general apathy within the country when it comes to politics and representation as a whole.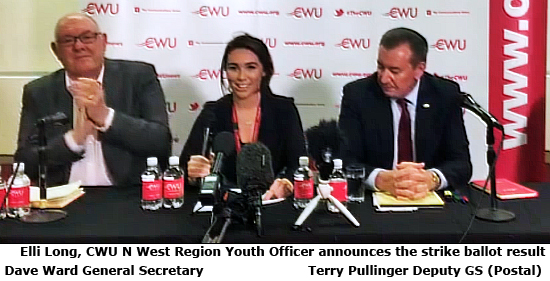 But, the one crack in the ice that seems now to be slowly being filled in, is the current activities of young workers in the CWU in terms of a new vigour in recruitment and involvement in the CWU as a whole.
The way in which Branch's interface with their members must surely have an effect upon membership involvement in the election of their representatives both locally and nationally; and in such ballots as pay and terms and conditions.
Proof of this can be seen with the results of the Four Pillars Of Security Campaign and the level of involvement of ordinary members in the campaign along with Branch Officers and Health & Safety Reps across the country who ensured maximum publicity within their Branches resulting in an 73.7% turn out!
When was the last time the CWU had a turn out such as that in local and national elections?
Source: CWU