North West Region Supports Campaign Against Bridge Tolls On Merseyside
The CWU North West Region has a proud record of getting involved in their local communities and supporting initiatives and campaigns that matter to the people in their areas.
Often, Branch's start campaigns in their local areas too.
One such case is that of the of CWU Preston Brook, Bury And Retail Branch, and their campaign to get the imposition of bridge toll removed from the Widnes to Runcorn bridges across the River Mersey.
As a result of their campaign, the issue was the subject of a debate in the House of Commons last year.
At their Regional Conference on Friday (16th Feb) CWU branch delegates once again vowed to support and promote the campaign which affects not just Merseyside, but the whole of the North West and North Wales commuting community.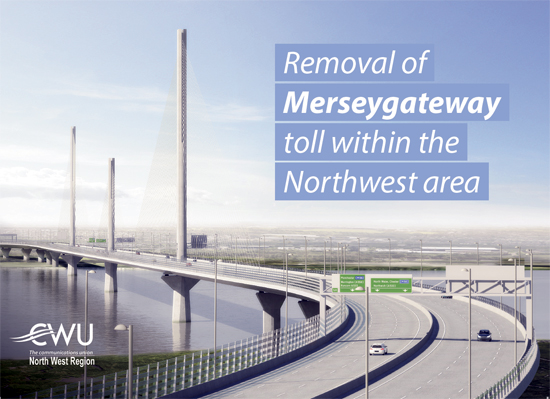 Shortly after the new bridge was open, the Liverpool Echo was reporting on businesses and employees who were suffering from the imposition of tolls on their suppliers, employees and as a result increasing the costs to their businesses and customers.
Not only that, but cases of people having to give up their employment as it meant crossing the bridge twice a day, making the work financially unsustainable as a direct result of these new bridge charges.
In other words the cost of travelling to work because of these bridge tolls, made their jobs unaffordable!
Campaigning against the imposition of tolls to access the new Mersey Gateway Bridge between Runcorn and Widnes and the existing bridge; CWU Preston Brook, Bury And Retail Branch have this petition on Change.org which they hope readers of this website will support and sign.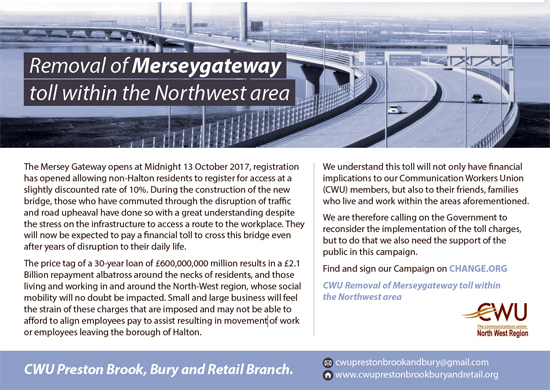 You can sign the petition by clicking the either of the pictures above.
Source: C Ingram / Carl Webb / CWU Preston Brook
Posted: 1st February 2018