Following the General Election last week which robbed the Tories of a working majority, the only response Theresa May could think of was to get into political deals with the Democratic Unionist Party (DUP).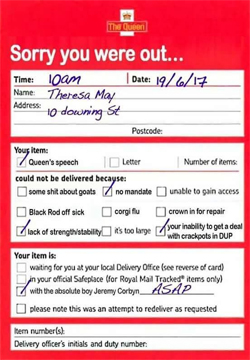 This as it turned out has delayed the Queen's speech, prompting many to respond critically of the move to strike up a deal with a party such as the DUP, given the parties backwards leaning policies against gay marriage and women's rights specifically in the form of having an anti-abortion policy which means women in N.Ireland are being criminalised for having the temerity to wish to control their own fertility.
But the CWU decided that May should be given a Red Card, in the form of the standard 'Sorry you were out' delivery attempt card, which you can see on the right, in all it's red glory!
Amidst the many comments criticising the delay to the Queen's Speach and the move to rely on the DUP to vote for new Tory legislation, was that of the Labour Leader Jeremy Corbyn at the subsequent gathering of MPs in Parliament to re-elect the Speaker of the House – John Bercow.
In a 7 minute speech with a certain amount of humour and irony, he made it clear that Labour with it's newly elected 30 MPs, can help Theresa May out, if she has any further problems.
The relevant part of his speech can be watched below:
Source: Parliament TV / Twitter – Dave Ward / CWU