Nearly hundred delegates from 14 North West branches attended the 6th Regional Conference held at the birth place of the TUC – The Mechanics Institute in Manchester.
Dave Kennedy, newly elected regional chair, opened the meeting and gave thanks to Karen Kendrick and Carl Webb for organising the day and co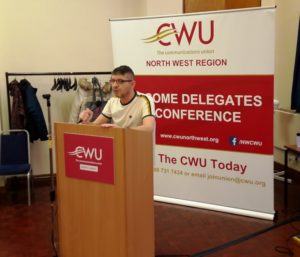 mpiling our Regional strategy.
A minutes silence was held for our comrades who'd passed.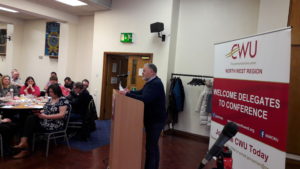 Delegates were shown a video highlighting the activities our region had been involved in, from campaigns, marches, gate meetings, canvassing and Pride marches.
An update was given on the dispute at Bootle and Seaforth Delivery Office by Ian Corrin, CWU Rep Greater Mersey Amal branch.
Chris Webb, CWU Head of Comms was in attendance in lieu of Dave Ward who couldn't attend because of illness. Chris spoke on: General Election – Labour Leadership elections – 2020 Comms Strategy, including a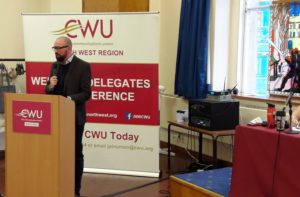 new CWU App for members and whether there was a need for the Voice.
The Retired and Young Workers Officers ran workshops, which were followed by a video with Kate Hudson, CWU Equality, Learning and Inclusive Officer answering questions from delegates
After lunch we held the Regional Committee AGM where we debated the 2019 CWU NW Annual Report our motions for General Conference and the NW Regional Development Plan This was followed by the Regional Sub-Committees AGMs and Regional Leads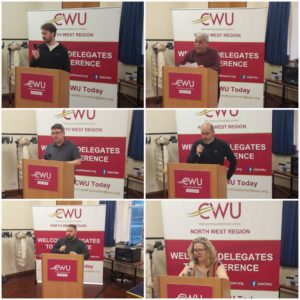 presenting their committees Key Priorities.
Another successful conference came to an end and Dave thanked everyone who attended and wished everyone a safe journey.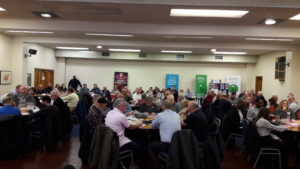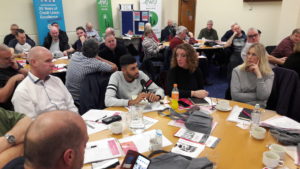 Posted: 15th February 2020