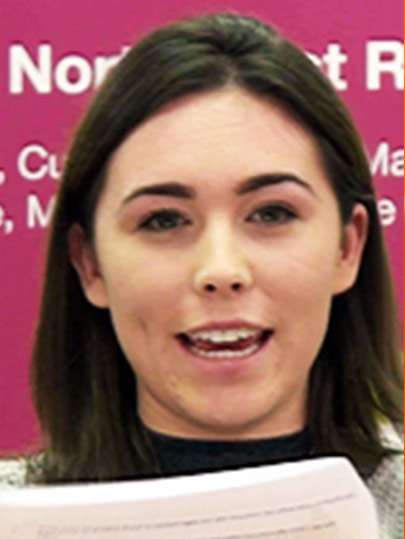 When you are a young worker, the last thing on your mind is what your pension is going to be when you retire from work. Given the fact that the Tories are intent on making people work until they are 70 years of age, this will probably be the case by the time young workers like Regional Officer Elli Long; is ready to leave the world of work.
Here, Elli gives her personal take on last weeks Four Pillars National Briefing on pensions and pay:
On Wednesday 7th February a branch delegation of Ian, Mike, Frank and I went down to London for the postal national agreement briefing.
The briefing started with Jane Loftus welcoming everybody to the meeting and talking through how the day will run. Jane then asked all women delegates at the meeting to come to the front to celebrate 100 years since women got the vote, she also said how great it was to see so many women union representatives at the meeting and may that long continue.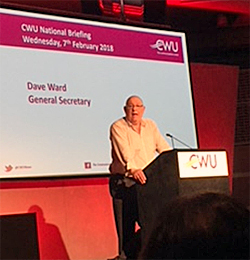 Dave Ward then welcomed everyone to the meeting.
He started off by thanking and congratulating Terry and the negotiating team for everything they have achieved in getting the agreement.
Dave also wanted to thank local reps and the members for the massive 89.1% yes vote.
He then went onto say how other unions are looking at us and asking how we did certain things in this campaign.
Dave said 'We are the union that is making the argument.'
Terry Pullinger was then welcomed to the stand to a huge well deserved round of applause from the audience. He started with thanking the negotiating team for all their hard work and efforts during the long (at time stressful) period of sitting in hotels trying to achieve an agreement for the members.
He then made a heartfelt thanks to every branch, every rep and every member who made the 89.1% yes vote happen.
He said before the yes vote Royal Mail were telling the CWU that they had got it wrong and they did not have the support they thought they had from the workers. Terry said 'How wrong they were…the CWU had completely shocked Royal Mail with the 89.1% yes vote.'
The fact that Terry and the negotiating team have managed to get the agreement without members having to lose a penny and completely changed the direction of Royal Mails approach.
Terry Pullinger- 'We have totally turned Royal Mail round and this is down to this union and its members. We were at a crossroads and now we have taken them down a completely different path.'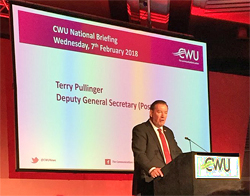 Terry then went on to talk about the change in culture in the workplace. A question asked to Terry was we have heard this before and how will it be different this time.
Terry said we need to ensure the commitments are upheld and would be reviewed by an independent person to make the decision if the company are abiding by the commitments they have made on culture change in the workplace.
Terry said we need to wipe out the bullying and harassment approach of Royal Mail once and for all. Terry asked: "Would you be happy for one of your family members to work for Royal Mail?' We will work on the culture until people can say yes to this."
He added: "You have to face up to the fact things are changing and we need to make to make the right move for our industry and our members. We had to decide what the main priorities are. The culture in the workplace is key that is why there will be an Independent review on culture in the workplace."

Terry then went on to speak about the younger generation and how it is important we fight for a better future. He also said how important is it that we get younger union reps coming forward.
"Royal Mail tried to pull the ladder on the next generation of postal workers. We need to inspire this union and a new generation or reps."
Terry then spoke on the pay deal. He told us some facts about how much Royal had spent on the pay deal. Terry said Royal Mail at the start were adamant they would not spend a penny on the pay deal and simply couldn't afford to, he said the pay deal we have now achieved is a massive jump from what they were originally saying and Royal Mail will be spending £280 million on this pay deal.
Terry said: "The reason for 5% from October on all elements of pay, it was the best route for an overall solution. People were adamant we wouldn't get all four pillars we were fighting for and we did, we got them all. People need to be prepared to embrace change but it's about controlling the change."
He added: " If members are not happy with the pay deal or the back pay date then I would suggest you tell them to go and speak to a NHS worker or a local nurse to see what they say."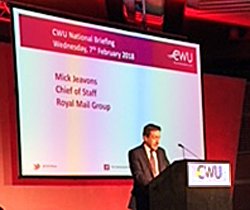 There were then 2 guest speakers from Royal Mail. Mick Jeavons told the briefing that this new pension was the right thing to do for Royal Mail Group workers and they wanted to offer the best terms and conditions including a decent pension for the employees.
He said: "The Company is completely committed on making this work."
Jenny Hall then spoke about how Royal Mail would be lobbying, and on a slide shown us, how Royal Mail have already started to try and lobby and speak to media to get some media attention on this.
When we were sitting listening to senior Royal Mail staff that have been in the negotiations with the CWU I just looked around and couldn't believe how far we have come.
In conference last year the mood was the complete opposite. The stories you would hear about how we were getting nowhere with Royal Mail and that they were simply not wanting to work with the CWU and now we were sitting in a national briefing watching a slide show and listening to what they had to say.
As a union we have come so far and we should all be proud of this.
All 89.1% should be so proud.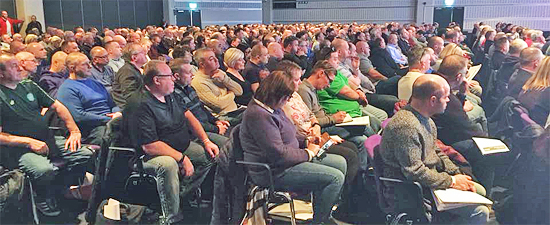 After this we heard from Davie Robertson, Mark Baulch and Ray Ellis.
They give updates on their parts of the negotiations and went into a little more detail about them. Likewise to Terry and Dave the officers said how the 89.1% yes vote had completely turned Royal Mail around and made them start negotiating properly with the CWU.
Terry will now be going around the country holding meetings for local reps and to feed this information to them so they can go into the workplaces and feel confident about feeding the information to the members and try to get a huge yes vote for this ballot.
The North West meeting will be held on Tuesday 27th February at the Adelphi hotel starting at 11am.
Thank you to the branch for sending me along. It was a very informative day and it was great to hear from Terry and the negotiating team what they think of the deal and how they come about certain things.
Posted: 1st February 2018