Yesterday, (Wednesday 11th Oct) the House of Commons debated EDM185 sponsored by Labour MP Helen Hayes (Dulwich and West Norwood, Labour) on the continued closures of Royal Mail Delivery Office closures since RM was privatised by the Coalition Government in 2013.
EDM185 reads:
That this House notes that Royal Mail provides vital public services in the delivery of letters and parcels and the provision of PO Box services; further notes that when it was privatised by the Coalition Government in 2013 concerns were raised about the continued provision of local delivery offices, but that no safeguards were put in place to stop asset-stripping in the form of forced closures and sale of local delivery offices; condemns the current delivery office closure programme which is threatening the accessibility of Royal Mail services in many communities across the UK, and which has a particular impact on vulnerable residents and young families; further condemns the absence of any requirement for public consultation in relation to delivery office closures; and calls on the Government to intervene to preserve local delivery offices and protect Royal Mail against asset-stripping.
Not ONE single Tory MP attended the Westminster Hall debate apart from the Government minister!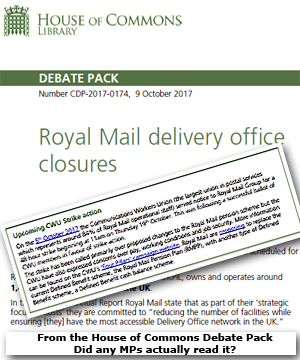 The debate was supported by a document placed in the House of Commons Library which clearly states the actual facts around this issue and particularly identifies that Royal Mail are being dishonest about their closures programme.
It provides too the evidence that RM Group have only profit as their motive as the CWU has claims. Click on the pic to the left to download the document direct from this website.
However, just how many MPs have actually read it for the facts, rather than the misleading and often incorrect headlines of the like of the Daily Mail and Daily Telegraph? Given that none of them turned up for this debate shows that the Tory Party does not give a damn about the postal service to the country as long as they are profiting in terms of huge dividends!
Helen Hayes in her speech stated that 142 Delivery Offices approximately 10% of the network have been closed since privatisation and that £200 million worth of property has been sold off by Royal Mail. Meanwhile £800 million worth of dividends have been paid out to shareholders and CEO Moya Green's pay packet is around £1.9 million!
She reminded MPs that in the debate held during the coalition government concerning the proposed sale of Royal Mail, Labour MPs had made it clear they were concerned about the issues being debated.
During the debate, the CWU were applauded for taking a stance and for balloting for industrial action over the issue of service to the pubic in addition to their concerns for their pensions and pay.
You can watch part of the debate below, whilst the full debate video can be watched on the Parliament UK website
Source: Parliament UK / C Ingram