The first shares allocated to CWU members under the privatisation sale of Royal Mail are able to be sold on the open market from 15th October 2016.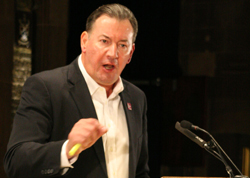 CWU's Terry Pullinger, Deputy General Secretary (Postal) has written to all union branches as a result of enquiries from some members at branch level regarding the sale and in particular any potential tax liability they may incur.
Letter to Branches (LTB602/16) includes an article that will hopefully aid colleagues in answering members' questions. A version of the article will also appear in the next issue of the Voice.
The CWU are not able to provide any financial advice to members – a point made clear in the article. It will also be noted that the article advises colleagues to contact the Royal Mail Employee Shares Helpline if necessary.
Download the article which is in PDF format here
Source: CWU