The level of vitriol has been quite palpable as over 20,000 people so far have signed a petition calling for the sacking of Esther McVey after her controversial appointment as Secretary of State for the Department of Work and Pensions, yesterday.
As reported yesterday, the decision by Theresa May to promote a previous minister who lost her position as MP and Minister for Employment in the election last year, to the cabinet role during this week's reshuffle; astonished and ourtraged many MPs on Merseyside and especially disabled people across the country.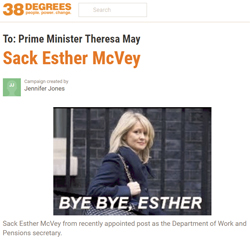 In less than 24 hours since the appointment was made public, more than 20,000 people have signed the petition calling for the former Employment Minister to be sacked.
But it appears that some of the reaction has got out of hand and bosses at 38 Degrees have had to step in and take action.
A message on the petition from its organiser Jennifer Jones explained:
"I've been contacted by 38 Degrees due to lots of people making unacceptable comments they've had to turn off the comment function."
She then urged people to campaign appropriately, adding:
"We have strength in numbers and the FACTS of McVey's voting record and actions are enough to comment on here.
"Please do not swear, make threats or cruel comments, we are all very, very upset- heck I'm so upset I started this petition."
Ms Jones, who is disabled herself, said the petition was "meant to give people hope," adding:
"It is a visual representation of numbers of support for those of us who've woken to this frightening news today.
We can fight this together, united disabled and non disabled, claimants or those in work, all together.
Be the better person and don't put yourself at risk by writing unacceptable comments online over this Minister, she's not worth it."
You can sign the petition calling for the sacking of Esther McVey here
Source: Liverpool Echo
Posted: 1st February 2018