The Trade Union Bill completed its final stages and was passed by both Houses of Parliament last week becoming the Trade Union Act 2016.
However, through the campaigning and political lobbying of the trade union and wider labour movement, the government was defeated on a number of important elements of the Bill in the House of Lords.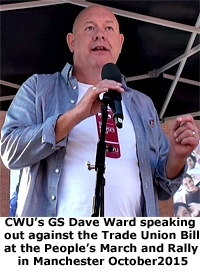 This has resulted in some significant changes in the final Act, most notably:
i. the government will not be able to unilaterally end check-off for trade unions in the public sector as it originally proposed;
ii. trade unions will not be forced to ask members already paying the political levy to opt-in to this, a proposal that was designed to limit our ability to campaign on political issues;
iii. the government will be required to jump through a number of new hoops before it can impose a cap on facility time in the public sector;
iv. after increasing the turnout thresholds unions must achieve in a vote for industrial action, the government has agreed to commission an independent review into allowing e-balloting alongside postal voting.
While these do change some of the worst of the government's original proposals, the Act remains a significant attack on trade unions and imposes new restrictions on a range of our activities. It will change the law on:
thresholds we have to reach in industrial action ballots
information we have to put on a ballot paper
information we have to give to members following a ballot
the time limits for taking industrial action in the event of a yes vote
the notice period for taking industrial action
picketing and the appointment of a picket supervisor
details of picketing we have to give to the police
new members joining the political levy
information we report to the Certification Officer
the powers of the Certification Officer to investigate trade unions
the funding of the Certification Officer, which we will now need to pay for
It is important to be clear that these have not yet become law but that they will be given effect by the government shortly – the date of this is yet to be confirmed.
The CWU will now be considering the full implications of the Act and will be publishing further information on what this means for headquarters and branches in terms of future compliance.
The Union remains strongly opposed to the Act and will do what it can to work with other unions to repeal the act and make it unworkable.
The CWU has played a leading role in the union movement in campaigning against the proposals and we will continue to do so.
Source: CWU