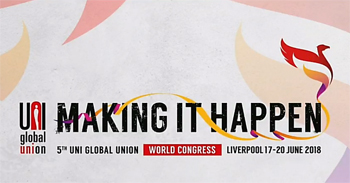 It was a very proud moment for for Liverpool, the CWU and for the Great Mersey Amal Branch!
The 5th UNI World Congress and the last one for outgoing general secretary, Philip Jennings was not only held in the City of Liverpool's world famous water front Arena and Conference Centre, but the CWU had a great delegation attending; with Elli Long, her Branch Young Worker's Officer, and member of the CWU's National Young Workers Committee; giving a fine speech as part of the CWU women's delegation.
Here, Elli gives her personal account of the procedings of her first major international event as a CWU delegate:
UNI World congress 2018
Women's conference:
We arrived in Liverpool and the Thursday and Friday was the UNI world women's conference.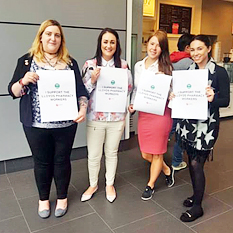 The CWU delegation was a great group of women and I was proud to see 3 women under 30 as part of the delegation.
When we first arrived at the echo arena it was huge, and as it was my first time at an international conference, it was amazing to see people from around the world coming together and the interpreters at the back and having to wear their head sets.
It was really amazing.
It was great to see Jane Loftus and Becca Hufton speak at the opening ceremony for the women's conference, they did an amazing job and did the CWU proud.
It was really good conference. It was good to see how they did it as they put certain motions together then vote at the end. It made it go quicker and give more chance for people to speak on motions if they wanted to. The motions were written really well and shows that women across the world are facing similar challenges inside and outside the workplace.
UNI World Congress:

On the Saturday the rest of the CWU delegation arrived In Liverpool. It was a really good group and great to spend time with other CWU officers. The fact it was held in Liverpool made it a little bit better for me as it was great having a delegation In Liverpool and getting to show some of them what Liverpool has to offer.
On the Sunday morning we had a delegates meeting and talked through the pad and decided if we would have anyone get up on certain motions on behalf of the CWU.
It was also decided that 2 young members should carry the CWU banner in the opening ceremony that afternoon, so me and Fiona were selected to do that and went across for the rehearsals.
The opening ceremony was great. It was so busy. The drama piece was fantastic and you could tell a lot of hard work and effort was put into it. It was great to see some things relating to Liverpool had been put in it too. Then all union flags from North West were taken to the front and stood in front of the stage while the performance was ending. It was great to be part of that and holding the CWU banner.
There were quite a few speakers but the main ones that stood out for me were; Jeremy Corbyn, Frances O'Grady and Becca Hufton. As a delegation we were all so proud of Becca for taking to the stage after these 2 amazing speakers and she really did the CWU and the CWU Young Workers proud.
The conference began on Monday and ran through until Wednesday.
The UNI general secretary, Phillip Jennings was standing down so there was a lot of presentations thanking him for his hard work over the years and then welcoming the new General secretary Christy Hoffman.
Some highlights from the week for me were;
Getting to see how a world conference works and the differences to how we do our conferences. I got to see what works better and what doesn't. It was really interesting for me as I had never been to one before. It was amazing to see no matter what language we speak people getting the chance to come together from across the world to listen to each other's issues and opinions on the motions.
Over the week most of the delegates got up on the motions so the CWU were 100% present and active at UNI global. It was pretty inspiring to see CWU delegates take to the rostrum so often at a UNI world conference and speaking in front of such a big audience.
One lunch time there was a UNI postal networking event were postal unions were invited to attend to speak to one another and network. Dave Ward welcomed everyone and just explained the reason for it and how it was a chance for postal reps from across the world to be in one room together and speak to one another in a relaxed environment.
Becca had asked if me and Fiona would like to speak on behalf of the CWU on the youth motion. It was then agreed at the delegates meeting. So, with a little help off a few people Fiona and myself come up with a speech and decided to talk about the importance of youth attendance at these events and how each union should be looking at themselves first and in bringing youth delegates to these types of events.
We then said about how our union had been pushing the young workers through and how the CWU national young workers committee hold 3 events each year for young workers and its because of that that we have 3 women under 30 on our delegation to this event.
It was pretty scary getting up in front of that many people at a world conference but I really enjoyed it and was happy to be getting the CWU opinion across and the fact we were in support of the motion.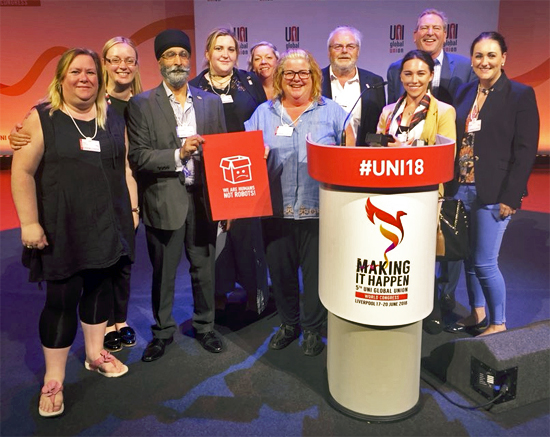 CWU Delegation – Elli is 2nd in on the right
On the Wednesday morning CWU delegates were told to meeting outside the echo arena at 8.30am as we had pink CWU bags to hand out to UNI delegates as they were walking in. The comms team were doing a Facebook live video too. It was great to speak to delegates walking in and give them the bright pink goody bags. Once we got inside you could just see bring pink CWU bags on each table.
The Facebook live video was a good idea as Chris Webb was asking questions to delegates to ask why it was important CWU were represented at this world conference, and why we shouldn't just be in the workplace. It was good for the members to see how important of an event it was and the reasons CWU should be represented there as what's going on in the world can affect what goes on in the workplace here in the UK.
Overall, I really enjoyed the UNI congress and enjoyed seeing our CWU delegation get up and speak on each motion made me proud.
Thank you
Elli Long
Greater Mersey and SW Lancs Amal
National young workers committee