Day two of Labour's Conference in Liverpool saw plans for a strong economy being laid out via the reports on the Economic Policy Commission, International Policies Commission, and Workplace 2020.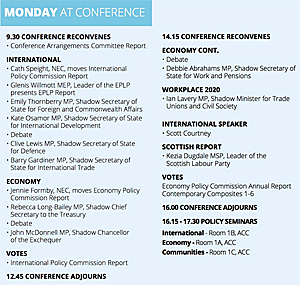 A very emotional debate was held given the industries that continue to be decimated under Tory governments, and this one is no different.
The closure of the steelworks at Redcar was the theme of Redcar CLP delegate Ceri Cawley's tearful speech which brought a standing ovation from conference.
She recounted the effects of the closure of the steelworks upon her community and told conference that it had affected her 7 year old son who organised a Christmas party for all the children from some of the families in her part of town whose parents had lost their jobs.
Dave Prentis from UNISON moved composite motion 5 in a speech which called for unity of the party around the need to attack the Tory government to stop the decimation of what industry we have left in this country.
The Fire Brigades Union (FBU) returned to the conference floor after Dave spoke, following a short time away from Labour Party conferences. Matt Wrack FBU GS, seconded the motion
An impassioned plea of support for the motion saw delegate Tosh McDonald from Aslef returning to the rostrum. It all got a bit much for him as he left the rostrum shouting, 'support the motion!'
Gail Hodson South Ribble CLP was so happy at the commitment from Labour of an anti-Fracking policy, she couldn't resist sharing her delight and thanks with Conference, before speaking in a similar vein to Jeremy Corbyn.
"I just want to speak by taking a leaf out of Jeremy's Corbyn's book at PMQs by putting something to conference from somebody else. And this is from my 20 yr old son Freddie. He has asked who wants to know when will Labour bust the myth that we wrecked the economy?"
She then put to conference that a public education campaign should be drawn up to make it clear just who was responsible – the bankers and the Troy government under Thatcher for liberalisation the banking sector in the first place.
Community Union delegate and a steel worker for some 30 years, Alan Coombs spoke emotionally about the steel works at Port Talbot. He said that the closure of Redcar steel works was nothing less than industrial sabotourge, and that he and other steel works across the country had been fighting for years to save the British steel industry.
Late afternoon, and Gloria De Piero Labour MP Ashfield spoke of the way the Miners Pensions Fund was being plundered, on the eve of a Miner's event being held tomorrow at noon by Liverpool's Derby Square monument opposite the Law Courts.
Conference closed at 16:00 in order to hold policy forums on the above areas.
Video of the presentations made today, can be accessed via the link at the bottom of this page.
These are just a few of the speeches made to Conference today by delegates:
Dave Prentis, GS Unison moving Comp motion 5
Matt Wrack FBU suporting Comp 5
Tosh McDonald Aslef Supporting Comp Motion 5 on Transport
Councillor Jacq Paschoud Lewisham West And Penge CLP supporting
Comp Motion 5 on Transport
Gail Hodson South Ribble CLP
Ceri Cawley, Redcar CLP
Alan Coombs Community Union Delegate
Gloria De Piero Labour MP Ashfield
To watch the presentations made on day two, click here
Source: Labour Party / YouTube