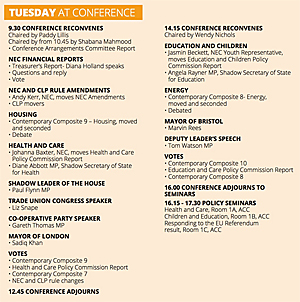 The third day of the Labour Party Conference held in Liverpool this week, has seen very important and sometimes emotional debates being held on the NHS and on debates on a subject which is often expected to be mundane – rules changes.
This morning speakers and presentations were given on these two key areas of Labour Party conference business and policy making.
Below you can watch the major presentations, including those from Diane Abbott, Shadow Secretary of State for Health, Sadiq Khan, Mayor of London, and Paul Flynn, Shadow Leader of the House of Commons and Shadow Secretary of State for Wales, Tom Watson, Deputy Leader of the Labour Party
Here are the main presentations of the morning session:
Diane Abbott, Shadow Secretary of State for Health
Diane opened her presentation by saying how proud she was being shadow secretary of state for health under the leadership of Jeremy Corbyn.
She told delegates that her Mother was a nurse and that she would want her to say how precious and backbreaking work being a nurse. Despite this the government was ending the student nurse bursary.
She accused Jeremy Hunt of treating junior doctors like the enemy within and once he has finished with them, he will go for the nurses and other NHS workers.
To applause Diane stated,. "Let there be no doubt, Labour, stands with the junior doctors!" She made it clear too that My predecessor, Heidi Alexander wedged a great campaign in the houses of parliament against ending the bursary., and I want to make it clear that Labour will restore the bursary.
She also reminded conference that there are 50,000 EU workers in the health service and 80,00 workers in the social care system and that the ending of free movement of people in EU following Brexit, will be a disaster for the NHS.
Diane made it clear too that a new Labour Government would repeal the Health and Social Care ACT!
Sadiq Khan, Mayor of London
Newly elected Labour Mayor of London congratulated Jeremy Corbyn's leadership election victory. He said that Labour was now in power in London and in Wales, and in Bristol, Manchester, Liverpool, Birmingham, Glasgow and Leeds.
He thanked Labour supporters, Trade Unions, and the staff of Labour who work so hard for us. He told conference that it is only when Labour is in power that we get the chance to solve the problems such as homelessness and the housing problem, the air pollution problem in London and our cities.
Paul Flynn, Shadow Leader of the House of Commons and
Shadow Secretary of State for Wales
Returning to Labour Conference for the first time since first speaking in 1981,
Phil started by saying to much support and laughter, " and I'm here today as a grateful recipient of Jeremy's job creation schemes for geriatrics!"
He then asked Conference, " Is it all over? Is that last 12 months gone, the last 12 months when we've been locked in a gap year of negativity, of pessimism, of hopelessness by many in our party?"
He reminded Conference of the 'marvelous results" we have had in real votes in local elections and that the media don't want to know about that, and only want to highlight division and failure.
The afternoon session covered Education and resulted in passionate debate, especially when it came to the issue of an unelected PM with no mandate to do so, is introducing a return to grammar schools.
Angela Rayner, Shadow Secretary of State for Education
and Shadow Minister for Women and Equalities
Angela Rayner gave a resounding attack on the Government's Education policies and accused them of putting politicxal dogma before the needs of the children of this country.
She announced a new taskforce into child care and education, and to be chaired by Unison's Assistant General Secretary Liz Snape.
Stating that Theresa May has not raised any evidence for the bringing back of Grammar Schools and related to Conference of how the stigma of failing the 11 plus has been toxic for so many people live's. "It tells a clever child they are stupid" she said.
On saturday Labour will launch its nation-wide campaign against grammar schools and urged everyone to get invloved and said we can stop this by woking together.
Angela also announced that Labour will bring back maintenance grants for low and middle class students as well as the EMA, both abolished under the Tories.
Source: Labour Party / YouTube