This website reported earlier in this election campaign and indeed only last week; on the destruction of the NHS, from the sale of hospitals and all NHS buildings to American Health Insurance companies. to the gross under funding and further massive cuts it faces, to the eventual sale of the NHS to American healthcare companies following Brexit and as part of a US/UK trade deal.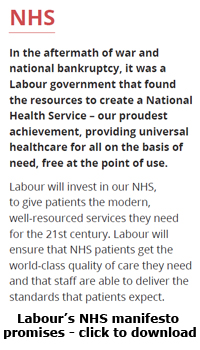 Indeed this website and others have been warning of this since even before the EU Referendum when the TTIP was being secretly negotiated in Brussels.
The Daily Mirror covered this news today and quoted Labour's Jon Ashworth:
Shadow Health Secretary Jon Ashworth said: "We now know if the Tories stay in power we'll see hospital wards closed, waiting times growing, treatments rationed and staff cut.
"The fact that NHS bosses have described this as the 'most extreme and ­difficult NHS finance process they had ­experienced' will make chilling reading for patients and their families who deserve the very best levels of care.
"Every single day the Tories are in power hospitals are being left to crumble, staff are being let down, waiting lists are growing and patients are being denied care."
Now, even the Tory press can't ignore the fact that following this General Election and if the Tories get back into power, there will be 'unthinkable cuts' to the NHS budget bringing with it hospital closures, A&E department closures and ward closures. Far fewer doctors and nurses will be resourcing the NHS as the effects of both Brexit and the demoralising of clinical staff continues along with their wage stagnation!
Yet, this was the answer from Theresa May with regard to the wages of nurses in the NHS, when asked by a nurse about wages during one of the only leadership debates May appeared in:
Tory cuts policy is part of their adherence to The Naylor Report which May promised Andrew Neil in an interview with him last week, they fully support.
The report recommended financial cuts to those hospitals that did not balance their books, much like Thatcher and her attacks on local councils that didn't cut services in order to balance their books. Along with the sale of NHS property including land and hospitals!
The 14 areas facing major cuts to services are: Bristol, South Gloucestershire and North Somerset; Cambridgeshire and Peterborough; Cheshire (Eastern, Vale Royal and South); Cornwall; Devon; Morecambe Bay; Northumbria; North Central London; North Lincolnshire; North West London; South East London; Staffordshire; Surrey and Sussex; Vale of York and Scarborough and Ryedale.
Meanwhile the Tory flagship newspaper, The Daily Telegraph had this:
NHS leaders are planning "unthinkable" measures including closing services, stopping treatments and systematically extending waiting times, amid growing financial pressures, health officials say.
Fourteen areas of the country have been told to draw up radical plans to reduce overspending, including controversial and unpopular measures such as closures of maternity and Accident & Emergency departments.
Senior managers told Health Service Journal they have been told to "think the unthinkable" as part of a national programme to cap costs.
The measures are currently being discussed privately by NHS England and NHS Improvement officials, with decisions expected after the general election."
Source: BBC / Daily Mirror / Daily Telegraph
See also:
The Truth About The NHS And Why The Tories Will Destroy It
A Letter From America Warns UK Not To Vote For A Gov That Privatises Our NHS
Theresa May Admits To Andrew Neil She Will Asset Strip The NHS