With the North West Region now celebrating the superb Four Pillars campaign and the Ballot win, the public support we have seen to date needs to be turned into a huge groundswell demanding the return of the Royal Mail to those who owned it – you and me – before it's total destruction.
An end to the Universal Delivery Service is on the cards, along with the the ending of delivery to your doorstep if Canada Post, Moya Green's previous position as CEO, is anything to go by.
No door to door delivery of mail – you go to a central point to pick your mail up. This can be in a major store, local 'convenience' store or even a 'Gas station'! Ask any Canadian what they think of Canada Post and the reaction will either be one of laughter or tears!
With the Royal Mail board now only concerned with profits and huge dividends returns to private shareholders, the race to the bottom is truly on.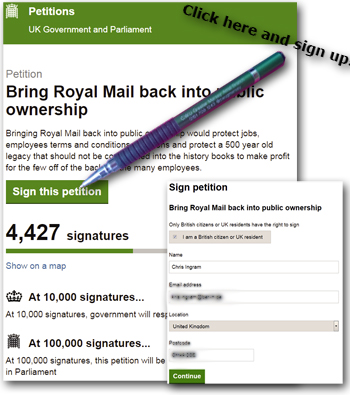 Only the CWU seems to be concerned about the service to the country, the politicians and the shareholders simply don 't give a damn as long as they are raking in the dividend payments!
As Terry Pullinger, CWU's DGS (postal) said at this weeks press conference announcing the ballot result, referring to RM Group's modus operandi of maximising profit before the public service; "In ten years time we will be saying whatever happened to the postal service that was once the envy of the world?"
It is fortunate that we have the backing of the next Labour Government and next Labour PM Jeremy Corbyn!
Sign the petition and pass on to family members, friends, neighbours and colleagues to sign to!
Source: Ian Corrin / Angela Teeling / John Pettit /C Ingram