With racial hate crime increasing since the vote to leave the EU, there is a need more than ever for education and anti-racist campaigns involving the public – adults and children.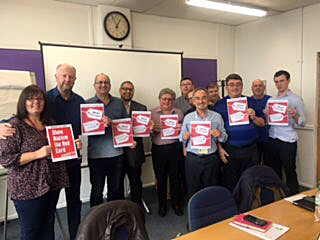 Show Racism the Red Card is the UK's anti-racism educational charity that was established in January 1996.
The charity aims to combat racism through enabling role models, who are predominately but not exclusively footballers, to present an anti-racist message to young people and others.
Wear Red Day this October is on Friday 21st.
The day is quite simply all about uniting against racism for one day, wearing something Red and donating £1 wherever you are!
The organisation utilises the high-profile status of football and football players to help tackle racism in society.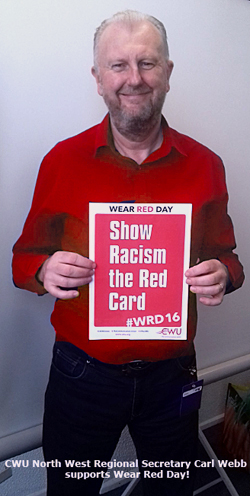 Show Racism The Red Card acknowledges that racism changes, as do the experiences of Black and Minority Ethnic communities in the UK. Our message and activities therefore need to be able to respond to such changes as and when appropriate.
The majority of the campaign's output is the delivery of education to young people and adults in their schools, their workplaces and at events held in football stadiums. Across Britain, Show Racism the Red Card delivers training to more than 50,000 individuals per year.
In addition to the direct education of young people and adults, Show Racism the Red Card produces resources which help promote a message of understanding.
Films featuring professional football players such as Thierry Henry, Samuel Eto'o and Ryan Giggs address a range of issues surrounding racism. The films help teachers and other training professionals to deliver training in their schools and workplaces. Each of the films is accompanied by an education pack containing lesson plans and activities for all ages.
Show Racism the Red Card works extensively across Great Britain and has offices in North East England, East England (also covering South East England and London), Scotland (Glasgow) and Wales (Cardiff). In Scotland and Wales, the campaign also focuses on tackling racism within professional and grass-roots football.
You can make a donation, as little as £1, to the charity here
Source: Angela Teeling / SRTRC England