Dear Colleague
Each October Show Racism the Red Card holds its annual Wear Red Day! The 6th annual Wear Red Day takes place this Friday 16th October 2020.
The CWU North West are actively encouraging branches, representatives and members to support this important event by downloading the WRD – NW Poster  take a pic – then post it on your social media. If you happen to have a CWU Against Racism Footy shirt then pop that on for the pic! Don't forget to use the hashtags #WRD20 #TheCWU and tag in @NWCWU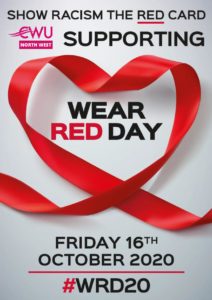 If you wish to donate £1 to help fund SRtRD anti-racism education for young people and adults across the UK then just wear red and snap a selfie & text 'RED' to 70470 to give £1, 'RED5' to give £5, 'RED10' to give £10 or 'RED20' to give £20.
I hope you can join in on the day and help 'Say No to Racism'
Posted: 14th October 2020