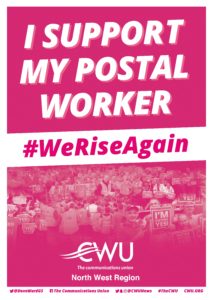 At the Weaver Vale Constituency Labour Party meeting held on Friday 14th February 2020, CWU Delegate to the CLP, Cllr Dave Cargill, spoke to the meeting about the current issues affecting the CWU and its members in particular reference to the ongoing dispute with the Royal Mail Group.
Weaver Vale CLP is fully supportive and appreciative of the CWU and the work it undertakes on behalf of both its Members and our communities in general.
Weaver Vale CLP is proud of our long association with the Trade Unions and are very appreciative of the advice and support they provide.
After Dave had finished speaking an emergency motion was proposed and was unanimously approved by all our Members.
The Motion is as follows:
"Weaver Vale CLP supports and stands in solidarity with the CWU in its current dispute with the Royal Mail Group and our Members will do all they can to ensure the message behind the action being taken and proposed is made known to all our communities".
Posted: 16th February 2020