Regional Women's officer Karen Bosson highlights two recent media reports on Women taking jobs which have traditionally been seen as a male preserve!
The first being about three sisters, all of whom now work for BT as engineers, with the second being a news item that was issued in a NW regional newspaper concerning a young woman who first started working in BT's Warrington Call Centre as a customer service advisor.
BT Openreach recently issued a press release regarding three sister's living and working in Scotland who now all work for BT as engineers. Here Karen takes the salient bits from the release: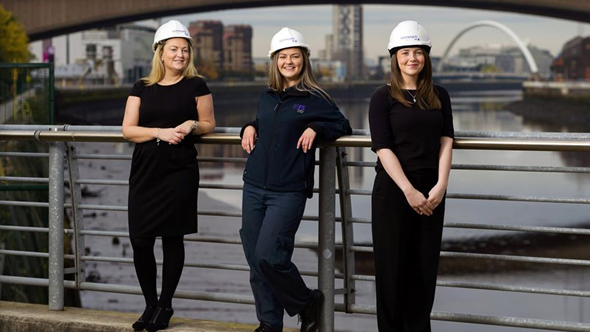 Sister power: Katrina, Laura and Nicola
Laura O'Donnell has left behind life as a club rep in Ayia Napa to follow in her sisters' footsteps and become an apprentice engineer.
Her sisters Nicola and Katrina both work at Openreach. It follows our drive to encourage more women into science, technology, engineering and mathematics (STEM) roles.
Laura's now a combustion gas engineer with BT Facilities Services – one of only three looking after our boilers across Scotland.
She says: "I was inspired to join by my sisters who really enjoy their jobs and have had lots of opportunities to develop their careers."
Katrina joined in 2001 as an apprentice and was one of the first women engineers to join her team in Glasgow. Since then, she's gained a business management degree and now manages 22 male engineers.
"It's great that we all work for the same company now, though not all together. That might confuse everyone," she says.
Nicola joined as an apprentice in 2013 and now works as a fibre planner.
She says:
"I'd say to any women thinking about a career in engineering, 'go for it, you've got nothing to lose'. We're one big engineering family; my dad's a heating engineer and my brother's an electrical engineer. There must be something in the blood."
Brendan Dick, BT Scotland director, said:
"It's fantastic that these three sisters have all inspired each other to take on engineering roles in BT. Our people are at the heart of Scottish communities, keeping the nation connected, so it's important for our customers that our staff represent the rich diversity of Scotland."
Karen is proud also to report local media attention given to a young woman who previously worked for BT as a customer service advisor in what was one of the largest call centres in the country, based in Warrington's Gemini Retail Park.
The news item first appeared in the Northwich Guardian. Here, Karen takes the salient points from that article:
Openreach employ more than 30,000 people to install, support and maintain their network and work on behalf of the nation's communications service providers.
Being a woman in a male-dominated profession can be daunting, but female engineer Becky Weller, said she has only ever been treated with respect by her male colleagues.
"Some of them take you under their wing," Becky said. "They look after me, but they know I can do the job just as good as they can."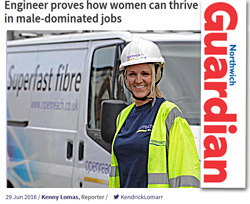 Becky, now 29, first started working for BT as a customer service operative for BT when she was 18 years old.
She stayed at the call centre, based in Warrington, for several years, but when the opportunity came along to become an engineer she grabbed it with both hands.
She now works as an engineer for Openreach, part of the BT Group, covering Northwich and its surrounding areas and Greater Manchester.
Speaking to the Northwich Guardian,
Becky said:
"I like getting my hands dirty!
I've been like that since I was a kid. I have a motorbike and I like fixing that up. I like mending things, it's just how I've always been. I used to go home and empty my pockets and have bolts and screws and all sort, it's just been like a fascination."
Whilst working in the Warrington call centre, she found out about BT's Women Into Engineering training programme; "There were a few of us who saw the opportunity. So rather than having to go to uni or do an apprenticeship, they trained us up," she said.
Being a woman also has its advantages in terms of dealing with customers, says Becky:
"I think I can sweeten some customers up a little bit more.
I also get from a lot of customers saying 'oh you don't see female engineer that often'. I get that so much. All the time. If I had a pound for every time I could probably retire."
Openreach engineers visit around 29,500 homes and offices every weekday and manage 90,000 repairs to its copper, fibre and broadband networks every week.
Becky has now been in her role for the last four years, and even after all that time the job still presents new challenges.
Explaining her work environment, Becky said:
"You're still learning now. There's something new all the time. Sometimes you see customers all the time others you don't see any for days, you'll just have your head stuck in a box. It just depends, it's different each day."
The life of an Openreach engineer requires a knack for problem-solving and a wealth of patience.
It's a slow paced job at times, which is somewhat at odds with Becky's passion outside of her work life – motorbikes and fast cars.The job is difficult, but also a rewarding one, she says:
"I love knowing I've fixed something and it's me who's done the job. It's rewarding. You know you've fixed it. It's been broken and you've fixed it yourself."
Source: Karen Boson / BT Openreach / Northwhich Guardian