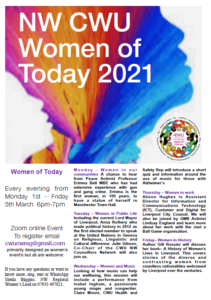 The CWU Northwest Regional Women's Lead and Equality Committee are running a number of live online events celebrating Women of Today and we would like to invite you to join us.
To register email cwunwreg@gmail.com
Monday 1st March, 6pm to 7pm  – Women in our communities
A chance to hear from Peace Activist Professor Erinma Bell MBE who has had extensive experience with gun and gang crime. Erinma is the first woman, in 150 years, to have a statue of herself in Manchester Town Hall.
Tuesday 2nd March, 6pm to 7pm  – Women in Public Life
Including the current Lord Mayor of Liverpool, Anna Rothery who made political history in 2012 as the first elected member to speak at the United Nations in Geneva on Religious, Linguistic and Cultural difference. Julie Gibson, Co-Chair of the CWU NW Councillors Network will also join us.
Wednesday 3rd March, 6pm to 7pm  – Women and Music
Looking at how music can help our wellbeing, this session will include a performance from Isabel In
gham, a passionate young singer and songwriter. Claire Moore, CWU Health and Safety Rep will introduce a short quiz and information around the use of music for those with Alzheimer's
Thursday 4th March, 6pm to 7pm  – Women in work
Alison Hughes is Assistant Director for Information and Communications Technology (ICT), Customer and Digital for Liverpool City Council. We will also be joined by GMB Activist Lindsay England and learn more about her work with the Just a Ball Game organisation.
Friday 5th March, 6pm to 7pm   – Women in History
Author Gill Rossini will discuss her book– A History of Women's Lives in Liverpool.
This covers stories of the diverse and contrasting women from countless nationalities welcomed by Liverpool over the centuries.
These are primarily designed as women's events – but all are welcome.
Posted: 17th February 2021