Every year on April 28th, all around the world the trade union movement unites to mark Workers' Memorial Day (#IWMD20).
This year trade unions, including the CWU are asking everyone to observe a minute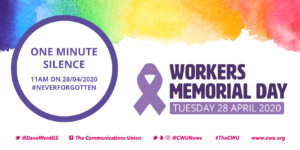 silence at 11:00 to remember those who have lost their lives at work, or from work-related injury and diseases.
It will be a moment to pay tribute to the sacrifice made of so many workers during the pandemic, to remember those who've sadly lost their lives, and to thank all those who continue to do vital work at great risk.
#NeverForgotten   #IWMD20 
Posters and social media graphics are available on this page: https://www.cwu.org/workers-memorial-day/