CWU Tells Royal Mail: 'Take Executive Action On Our Pensions And We'll Ballot'
Royal Mail bosses were warned this week that any unagreed pension changes will spark a national strike ballot, following the company's announcement of a formal consultation.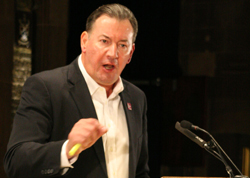 The union's Deputy General Secretary Terry Pullinger reminded the business that CWU already has a "robust policy commitment" to enact formal industrial action proceedings if members' defined benefit (DB) pension scheme is closed without agreement.
Royal Mail's decision to launch the statutory consultation had been "anticipated for some months," Terry said, and added that, although the company had expressed the view, in this morning's statement, that they want to close the DB scheme, "a final decision has not yet been made.
"So," he continued: "We move from shadow boxing to the ring and negotiations will now begin in earnest, and the CWU is fully committed to developing an agreed solution which maintains the pension promise of a wage and dignity in retirement for all of its members. Both those in the current defined benefit and defined contribution schemes."
He added: "However, any attempt to introduce any unagreed change by the business would be met with an industrial action ballot. It has to be understood that the industrial stability agreement with legally binding aspects, which took us into privatisation, has at its core the joint commitment to mutual interest solutions.
Concluding his warning to Royal Mail, Terry said:
"The business faces many challenges going forward and the union will always insist that solutions will have to be via agreement and will have to reflect the balance of mutual interest for both employees and the company."
In terms of strategy, Terry has already issued a letter to all CWU Postal Workers Branches (LTB001/2017) updating them on the current situation with regard to the Royal Mail Pensions Scheme, which can be downloaded in full here
Source:CWU/Carl Webb