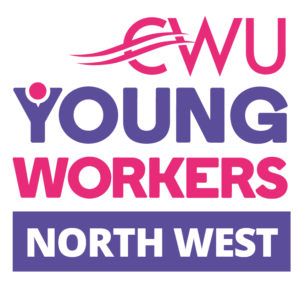 Knowing your rights as a young person in today's society is vital within your working life. Without your working rights, how will you know what's right and wrong, how will you know when to speak up and do you know who to speak to if things go wrong
Being a member in your Trade union "CWU" is your RIGHT! But being involved is the key.
The NW Young Workers Committee meets four times a year and the committee's priorities for this year are:
Achieve 75% of NW branches to have an elected YW's Rep.
Ensure a minimum average attendance at national events of 75%. and NWYW Regional committee meetings an average attendance of 50%.
Have all elected YW's officials' details, branches and activity mapped.
Ensure all YW's Reps have access to the YW's job role which was created 2019 to give guidance and an action plan to help them grow within their roles.
Host a minimum of one joint event per annum to encourage YWs Reps to develop relationships with others and engage in their own interests.
The NW Young Workers Committee cannot work without YOU, ITS MEMBERS.
Please contact Dan Wrigley, Regional Young Workers Lead dan.wrigley91@gmail.com for further info and to volunteer to be a member of the CWU's North West Regional Young Workers Committee.
Regional Young Workers Committee Annual Report 2019
Young Workers Lead Annual Report 2020
2021 North West Young Workers Key Priorities
TUC news – coronavirus – young workers three times more likely be employed sectors where jobs-are most risk