---
PAY AND FOUR PILLARS AGREEMENT – NATIONAL BALLOT RESULT
The result of the Ballot, as certified by the independent Scrutineer:
Number of Votes % of Valid Vote
YES 56,177 90.1%
NO 6,167 9.9%
A resounding YES to the Four Pillars Agreement!
---
Four Pillars – Your Time To Vote YES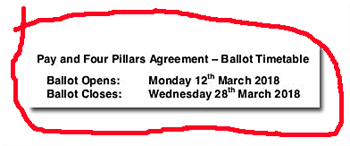 For regular updates on the campaign in the form of bulletins, pics and news items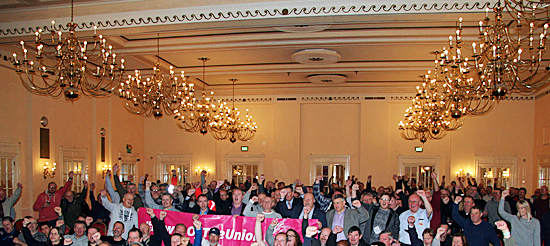 Four Pillars Bulletin No 41 – Use Your Vote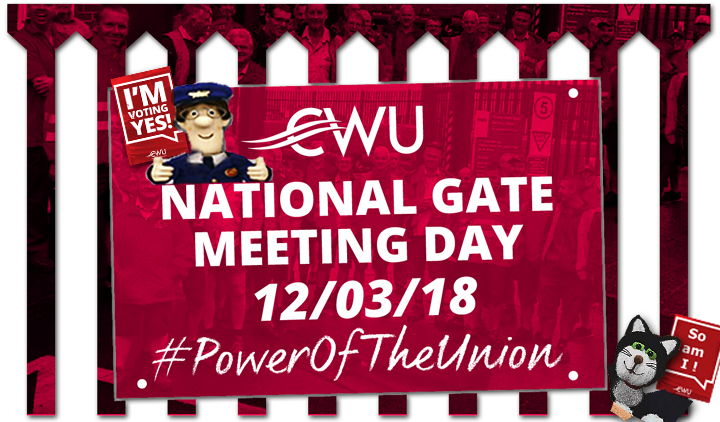 Four Pillars Bulletin No 40 – Pension Forms Explained
Four Pillars Bulletin No 39 – N Ireland Unit Reps Briefing Postponed
Four Pillars North West and North Wales Forum Report
Bulletin No 38 – Four Pillars and Pay Agreement Tour
Bulletin No 37 – Four Pillars and Pay Agreement Tour
Regional Young Workers Officer Reports On National Pensions And Pay Briefing
National Four Pillars & Pay Agreement Briefing
Unit Representative Briefings – Pay and Four Pillars Agreement
Pensions Video Presentation by Hilary Salt, Actuary


Bulletin No 36 – Delivering Security In Retirement For All
Bulletin No 35 – Delivering For Members
National Briefing Pay and Four Pillars Agreement
Joint Statement CWU/Royal Mail On Four Pillars Agreement
Negotiators agreement reached. This will now be put to the Postal Executive on 30/31 January 2018. If agreed there, it will go out to a full vote to all CWU members in the Royal Mail Group. Thank you for all of your incredible support.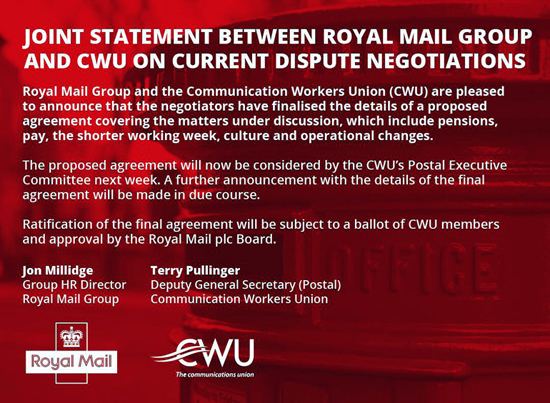 Statement from Terry Pullinger 26th January 2018

Bulletin No 34 – Agreement Reached
Bulletin No 33 – Finalising A Deal
Terry Pullinger Update 12th January 2018

Bulletin No 32 – refers only to the video above
Bulletin No 31 – Negotiations Continue
Bulletin No 30 – Securing A Settlement
Bulletin No 29 – Providing Security And Defending A Vital Service
Bulletin No 28 – Clear Progress But No Deal Yet
Latest update from Terry Pullinger 5th December 2017

Bulletin No 27 – Publication of Mediator's Report
Bulletin No 26 – Unity is Strength
Bulletin No 25 – Talks Continue
CWU Workers Create Increased Profits For Royal Mail
Now Ask Them To Keep Their Promises
Bulletin No 24 – Keeping Up The Pressure
Latest Update on the campaign from Terry Pullinger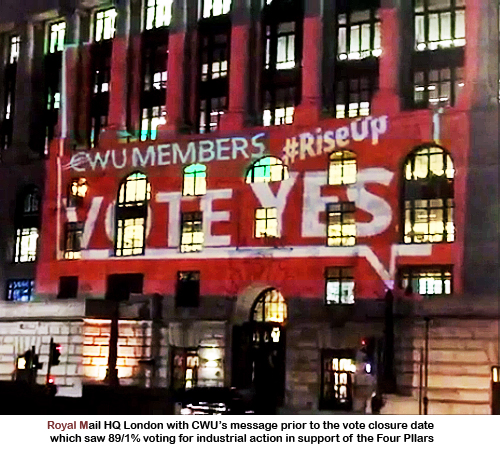 Bulletin No 23 – 89.1% and proud
Bulletin No 22 – Royal Mail's Court Order Was A Cynical Manoeuvre
News item – Video Update 26th October 2017
News item – Four Pillars Update – External Mediation
Bulletin No 21 – Royal Mail Must Listen To CWU Members
Bulletin No 20 – No Justice, No Peace
News item – Pay 2017 And Pillars Of Security – Facts!
News item – Royal Mail Group Dispute – High Court Judgement And National Briefing
News item – High Court Supports Royal Mail Against Worker's Rights!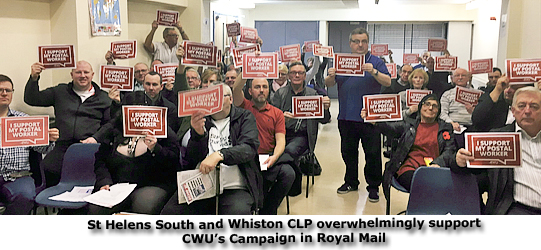 News item – Royal Mail Takes CWU To Court Rather Than Settle Dispute
LTB539/17 – Royal Mail Group Legal Challenges (Word format download)
Bulletin No 19 – National Strike Action Declared
Bulletin No 18 – Get The Vote Out – It's Time To Choose Sides
Bulletin No 17 – Vote Yes For Decent Pensions For All
News item – CWU North West Region take the Four Pillars fight to The Tories!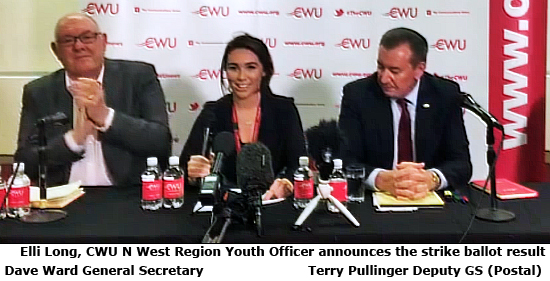 News item – Massive Yes Vote In Four Pillars Strike Ballot Declares CWU
News item – Be A CWU Hero Just For One Day! – Wednesday 20th Sept!
News item – Hypocrisy Of Royal Mail As Moya Green's Pay and Perks Increases By A Quarter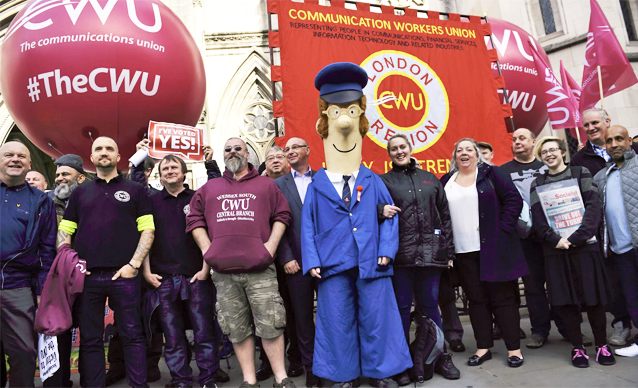 News item – Four Pillars Of Security And CWU Pay Claim 2017 – The Latest
Bulletin No 16 – It's Time To Pick Sides
Special Bulletin – Terry Pullinger, DGS Postal
News item – National Gate Meeting Day Announced By CWU
Bulletin No 15 – It's Time To Choose Sides – It's Time To Vote Yes
News item – Four Pillars Campaign – Industrial Action Ballot LTB In Full
News item – CWU To Stage National Industrial Action Ballot Of Over 100,000 Members
Bulletin No 14 – Making A Difference
Video Message – 70,000 signature petition
Bulletin No 13 – Fighting For Your Future
Bulletin No 12 – Ballot Timetable Announced
Video Message – Deadline of 6th September
Bulletin No 11 – Time For Royal Mail To Listen To The CWU
Bulletin No 10 – Talks Update
Bulletin No 9 – Legacy Payments, Anoth Broken Promise
Bulletin No 8 – Securing A Settlement
Bulletin No 7 – A Pension Solution For All
Bulletin No 6 – Disrespected, Patronised And Undervalued
Bulletin No 5 – Four Pillars And Parcelforce – Another Management Myth Exposed
Video Message – To Parcelforece members
Bulletin No 4 – Royal Mail Management
Bulletins No 3 – Unit Reps Tour
Bulletin No 2 – Royal Mail's Broken Promises
Bulletin No 1 – Campaign details and arguments
LTB28/17 – Intro and background to Four Pillars of Security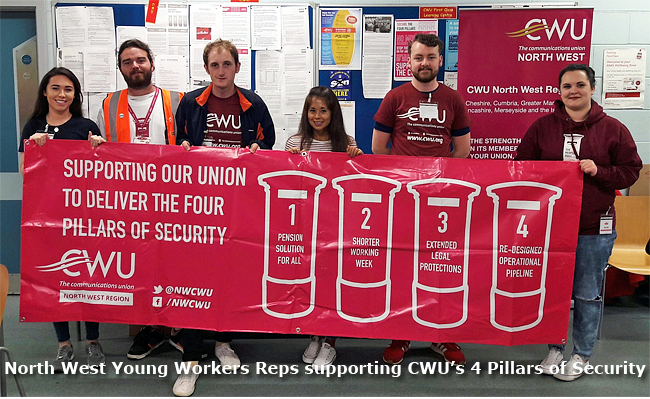 Source: CWU / Carl Webb / C Ingram